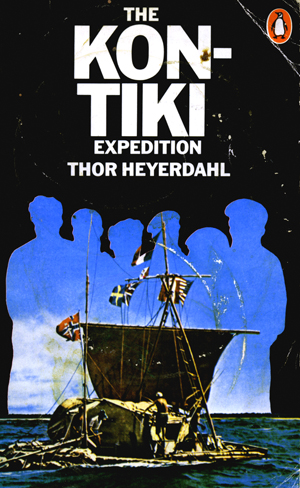 It was about this time last year that in a search for something to read in English, I rummaged through our old collection of paperback Penguins. And up popped this, "The Kontiki Expedition' by Thor Heyerdahl. I remembered the story from those now lost days when BBC2 used to programme this kind of thing. It's a great read (even if some of their accounts about encounters with the natural world are a little old fashioned). I remember last summer sharing the enthusiasm for this story with a friend from Argentina who was also equally fascinated with the tale.
And then coincidentally I spotted on the internet something called Plastiki, a similar voyage taken last summer in a boat made from 12000 plastic bottles. I blogged the story back then here. Pretty obviously Plastiki was / is intended to highlight the disastrous plight of our oceans particularly from plastics, most notably plastic bottles..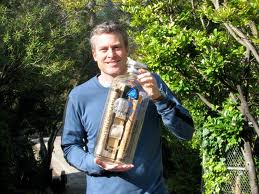 Then imagine my surprise  the other week when guests arrived at Cortijada Los Gázquez who have a creative / campaigning association with Plastiki. Jay Little is an environmental artist, over here from California with his wife and kids. The subject came up after I noticed him avidly reading my book on Jacques Coustau (obviously). Jay is responsible for The Message Bottle Project. For the last 17 years Jay has been launching a series of glass message bottles from every conceivable vessel and spanning all five major oceans to underscore the importance of preserving the world's oceans and draw attention to marine pollution (particularly plastic debris). He has released 235 bottles with 22 confirmed discoveries.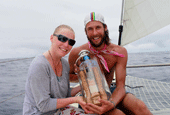 One of Jay's bottles has been launched from The Plastiki whilst on route across the Pacific (left). This bottle is special as it has been tagged with satellite technology and what is more you can follow it's progress around the globe by following this link. For more information you can go to our Joya: arte + ecología page on Facebook and look under our list of likes. There you will see Message Bottle Project and from there you can read more.
Needless to say we are delighted that people are coming to us because we share so many of the same values. And we will be tracking Jay Little's Plastiki bottle.