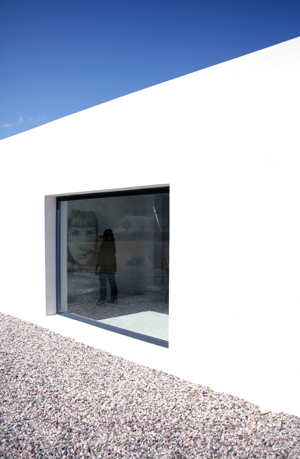 "The studio at Los Gazquez is beautiful.  The atmosphere changes with the weather.   Sitting in the space, viewing the low clouds floating through the mountains, or birds of prey circling high over-head, is an absorbing experience.  Without wishing to be too existential about it, it is a time to re-order priorities.
The residency mission - to make work that responds to this unique setting - can be interpreted in many different ways, from working 'en plein air', or directly with the land, to (as in my case) choosing materials and ways of working that chime with the sense of scale that the studio provokes.  As it is wind and solar powered, the whole of Los Gazquez energises itself through the environment, and this provides a metaphor for the creative endeavour of the studio.
I know that my time at Loz Gasquez will stay with me long after I have returned to London it has shifted my thinking and making".
Rebecca Fortnum 2009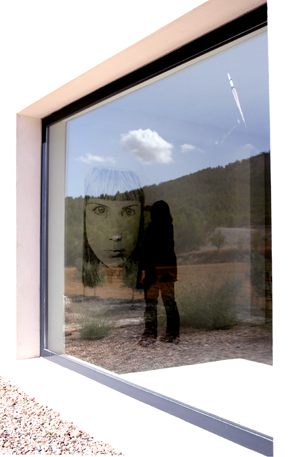 Rebecca Fortnum is currently Reader in Fine Art at University of the Arts, London (www.camberwell.arts.ac.uk/31670.htm) where she runs the MA Fine Art programme. Rebecca has been a visiting fellow in painting at Plymouth University and at Winchester School of Art, a visiting artist at The School of the Art Institute of Chicago and a senior lecturer at Norwich and Wimbledon Schools of Art. From 2004-9 she was Research Fellow at Lancaster University where she led the Visual Intelligences Research Project, that explored how artists think and make (www.visualintelligences.com).
She has received several awards including from the Pollock-Krasner Foundation, the British Council, the Arts Council of England, the British School in Rome and the Arts and Humanities Research Council. She has exhibited widely including solo shows at the Collective Gallery, Edinburgh, Spacex Gallery, Exeter, Kapil Jariwala Gallery, London, Angel Row Gallery, Nottingham, The Drawing Gallery, London and Shropshire (www.thedrawinggallery.com) and Gallery 33, Berlin (http://sites.google.com/site/gallery33berlin). She was instrumental in founding the artist-run spaces Cubitt Gallery and Gasworks Gallery in London. Her book of interviews, Contemporary British Women Artists, in their own words, was published by IB Tauris in 2007.
In 2007 Rebecca was a recipient of the Art House's Space for 10 award for mid-career artists (www.spacefor10.org.uk) and was also lead international artist for the TRADE project in Roscommon & Leitrim, Ireland (www.roscommonarts.com/trade/2007). She is currently taking part in METHOD, a cultural leadership programme for artists (www.solarassociates.net).