On Friday I had a little business over the border in Murcia. Lorca to be precise. And when my business was concluded I thought 'let's try a different route home'. So with the aid of an OS map I cut across country leaving Lorca via the Rambla Sangonera to La Parroquia which is a one horse town if ever there was one. From here I took the road to Zarcilla de Ramos eventually taking a left leaving the tarmac and started heading upwards ascending the Sierra Gigante.
This was a precipitous road to say the least with vertical drops at points into a pine laden abyss. Pines which appeared white like ghost trees strung out across the dusty road. My ascent was rapid aided by the dusty road and I would have to look up the mountain to see in advance if there was traffic coming the other way, allowing me to anticipate another vehicle on a hair pin bend or ancient crumbling bridge. Then I got stuck behind this…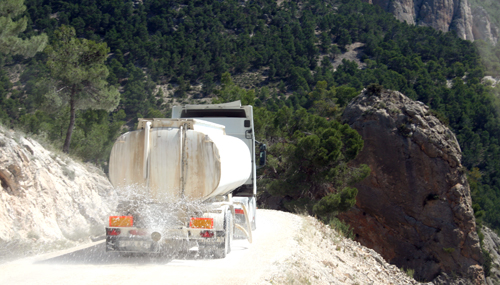 The dust was so bad they were clearly damping the road down in an attempt to control it.
On reaching the ridge I realized the reason for all the heavy traffic. Despite the perilous road huge lorries were taking enormous blocks of marble from here…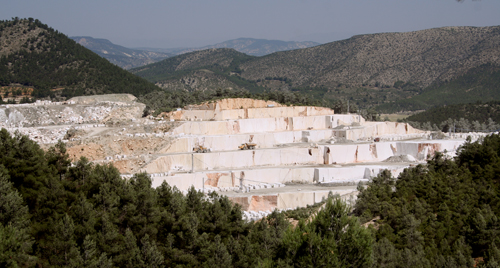 a giant quarry. It appears that they just saw through the mountain and roll out these giant dice of about 5 cubic metres. They then load a couple on to a lorry and send it off for processing in a factory somewhere to make tiles for our floors and bathrooms and counter tops.
So if you didn't know before you do now.