Once again friend and collaborator of Cortijada Los Gázquez and the Joya: arte + ecología residency/opportunity, Gill Nicol of Lights Going On has created another post on her fantastic web site in support of our AGUAZERO award. Joya: arte + ecología is inviting submissions for a competition which has an environmental agenda.
This is the sixth week Gill Nicol, as an independent arts consultant specialising in contemporary art, has looked at an artist who has engaged with environmental issues through their work. These 'posts' are designed to be 'inspirational prompts' for those considering applying for the award.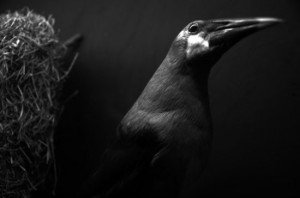 Christine Baeumler
Artist Christine Baeumler has recently focused on the Amazon rainforest and the creatures that are in danger of being wiped out within the fragile ecosystem. In 2009, she travelled to the Pacaya-Samiria National Reserve; five million acres of rainforest in northeastern Peru. The resulting photographs are of black caimans, river otters and howler monkeys; the images then worked on with dark ink and paint, literally making them disappear.
She says
'I approach my work through the combined perspective of art and the natural sciences. By placing myself in the role of the careful observer, I shadow the practices of earlier naturalist explorers who traveled to investigate unfamiliar species and habitats. Research has taken me to the Northern Australian Rainforest, the Great Barrier Reef, and the Galapagos Islands in Ecuador. My practice departs from scientific inquiry in the subjectivity of the results. The work is not a description of place but rather a record of my experience through the process of perception and memory.'
Currently, my work is motivated by the impact of global climate disruption on rainforests, reefs and in the deep sea. My concern lies not only with the diminishment of ecosystems but also with the extinction of the human experience and knowledge of these environments and the species that inhabit them. By portraying worlds remote from our daily experiences, yet impacted ecologically by our actions, the work offers the viewer a glimpse into these compelling, fragile, and often invisible worlds.
Since July 2007, Christine has been involved in an ongoing dialogue with LAND2, part of PLaCE based at University of West of England, in Bristol. PLaCE is a grouping of creative, practice led, academic research centers that address issues of site, location, context and environment at the intersection of a multiplicity of disciplines and practices. She is currently an Assistant Professor in the Department of Art at the University of Minnesota in Minneapolis, USA.
This is the sixth artist I have looked at, who focuses on ecological issues in their practice; written as part of an invitation by Los Gazquez and their opportunity/residency award AGUAZERO/Joya: arte + ecología.