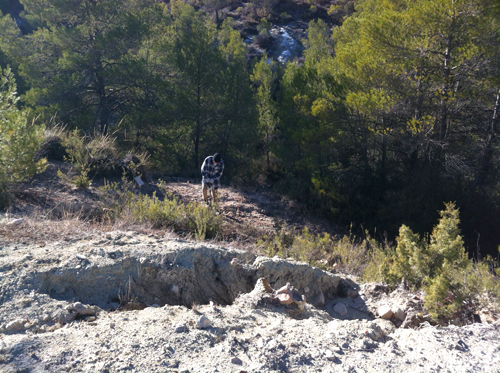 At Los Gázquez and indeed in the whole region, land suffers from erosion. There are many reasons for this and indeed this is a topic for another post. What we are currently concerned with is naturally combating this problem. So this is a trial which I will from time to time post again as an update as to it's success or failure.
As you can see in the picture above, 'tilled' land is fragile and can easily start washing away, even in a dry climate like ours. Once 'fissures' develop it only takes a small obstacle like a rock to accelerate the problem as it creates a step which amplifies the downward pressure of water on the soil causing greater erosion. One of the problems this land suffers from is the loss of native plant species which would support soils such as 'esparto grass'…
If one observes what is happening in your location the landscape potentially reveals solutions to problems. This is esparto grass happily growing on a knoll. However the knoll is there because the root system of the grass supports the soil beneath it. The reason the grass is raised is because the soil around it has washed away. Esparto takes around 20 years to recolonise an area. So, how can we reproduce that intricate network of roots rapidly…
Here is an almond tree happily growing above the erosional fissure in question. Every year we have to prune the almonds to keep them productive and accessable. Locally these prunings are burnt however we thought we might make an experiment…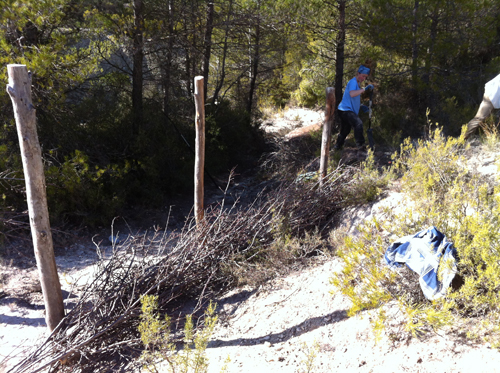 At the base of the erosional fissure we have dug in a series of posts. Behind these posts we are carefully weaving the almond prunings to create a permeable barrier…
It's not finished yet but the idea is that the network of branches will allow water to pass through but capture soil and small stones and hold onto them the way the esparto grass roots do. In time the deposits of soil will build up and naturally re-build the bank that was previously washing away. What's more, the almond branches will break down and release organic matter into the soil and help the rejuvenation of plant species like esparto grass etc. It's an experiment but let's hope it works.
Thanks must be given to our volunteers Jeroen, Franck and Fannie.