Joya / University of the Arts London MA Fine Art / 2011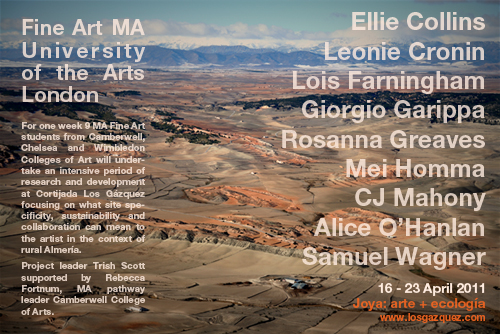 Outline
For one week 9 MA Fine Art students from Camberwell, Chelsea and Wimbledon Colleges of Art will undertake an intensive period of research and development at Cortijada de Los Gázquez focusing on what site specificity, sustainability and collaboration can mean to the artist in the context of rural Almeria. Participants will extend their normal practice into a new environment, developing site based research skills, whilst at the same time exploring the collaborative potential of being in a group, working with a shared space and shared resources. A week of practical experimentation, alongside workshops and critical discussion will lead to proposals for site-based works (which may or may not be realised in the future.)
[The project is led by Trish Scott and supported by Rebecca Fortnum, MA Fine Art Pathway Leader, Camberwell College of Arts].
Objectives
Through practical experimentation and critical discussion participants will address the following research questions, arriving at a model or proposal for a piece of site-based work.
What constitutes ´site specific´ work?
What are the conceptual, practical, ethical and ecological considerations of working site specifically?
How can collaboration be used as a tool to develop work?
How does collaboration affect authorship and ownership?
What responsibility do participants within a group have to each other?
What forms might a  ´site responsive´ collaborative project take?
Participants…
Ellie Collins
"My current focus is on exploring the interplay between sensory engagement and cultural communication involved in connecting with and interpreting an artwork. My methodology is process based and experimental with the realisation of a tangible end product not always essential, though the evaluation of outcomes is key to inform the development of new work which might manifest as installation, painting, multi-sensory collaboration or writing.
My role as a practitioner is to elicit curiosity and in doing so, to allow the viewer to shape their own experience, depending on their actions."
Ellie Collins has previously attended residencies and worked in partnership in the UK, Brazil, North Carolina and Macedonia. Her work has been exhibited extensively in group and solo shows internationally and throughout Britain. Past awards have included Arts Council of England in 2002 and 2007 for research and development.
Having graduated in Fine Art in 1997, Ellie is currently completing an MA at Camberwell College of Arts, London. She lives and works in Northern Lincolnshire in the UK.
Lois Farningham
Lois Farningham has a Bachelor in Architecture from UCL and is currently studying for a Masters in Fine Arts at Camberwell. She worked as a Landscape Architect for three years in Edinburgh and New York, and as a set designer in Glasgow in 2009.
"My work stems from my interest in the landscape and the impermanence of the organic. I predominantly use ephemeral materials for their complexity and changeability. Their ability to grow, crack, and fade adds a primitive element to my work that is often unpredictable. This element of chance arouses a sense of wonder."
Léonie Cronin
Léonie Cronin is a painter who has been practicing for over 20 years and studied at Chelsea and Norwich art school. She has recently helped found a website and community for the South London Women Artists.
Léonie has been working on her interpretations of Atalanta and Hippomenes from Ovids Metamorphoses. The story is of a young girl who is a great Athelete, she is not keen to be married as an oracle predicts she will lose herself without losing her life. Leonie has been looking at these stories as a starting point. She has two teenage daughters who are bombarded with images of women from magazines, TV and bill boards, with commentary on how we are supposed to look and behave of what constitutes being a women today. Women have many choices and the traditional arguments of feminism perhaps no longer apply. However social pressures have changed to a different perspective, Léonie's aim is to broaden that viewpoint to her daughters at least.
http://southlondonwomenartists.co.uk/2008/03/04/leonie-cronin/
http://www.bainbridgestudios.co.uk/artists.html
Giorgio Garippa
Born in Sardinia, Italy, Giorgio Garippa was brought up by his parents in a land still renown for its natural beauty and harshness, with deeply entrenched pagan rituals whilst under the huge influence of Catholicism.He graduated from Oxford Brookes University with a first class degree in Fine Art in 2007 and is currently undertaking an MA at Wimbledon College of Art.
Garippa's works cross the disciplines of video, installation and sculpture. Using his own experiences as a departure point and the confrontation between the rural and the unknown urban areas, he explores identity and memories separated from their origins and contexts, particularly with regards to the displacement of people and their re-evaluation within a commodity-driven monoculture.
http://www.giorgiogarippa.co.uk
Rosanna Greaves
Rosanna Greaves is a London based artist, who works across media including sound, film, video and text to produce site responsive installations. She graduated from BA (Hons) Fine Art at Middlesex University in 2002.
Recent works include 'Environmental Encouragement" Made for a two person show at Schwartz Gallery 2010 and'Jenny' made for o p e n e n d e d 3 Curated by Maeve Rendle, Ducie House, Manchester 2009.
Alongside her own practice Rosanna has also been a visiting Lecturer at Cambridge School of Art, Anglia Ruskin University since 2005, and has worked on the education programme at Cubitt Gallery and Studios since 2008.
http://www.re-title.com/artists/rosanna-greaves.asp
Mei Homma
Mei Homma was born in Tokyo, Japan. She studied a BA in Art Theory  in Japan and is now doing an MA in Fine Art at Chelsea College of Art and Design in London.
"When I was at my college in Japan, at first I did not expect I would become a person who makes artworks. However, during my BA course I was looking for things which I can do and travelling to many places in Japan and other countries. I have seen many video works which are quite conceptual and based on documentary in Germany and I became interested in making artworks using video. Therefore, I have been making installations using video, photographs and everyday materials. My concepts are based on things I noticed in my everyday life and they are someone's personal emotions and experiences. I grew up in Japan and came to London one year ago, so what I am thinking is how people can share ideas beyond cultural differences and similarities. I take video everywhere and my videos are documentary of someone's daily life. I am also interested in nature and how people deal with it."
http://www.vimeo.com/user5654043
CJ Mahony
"My practice is located in installation and sculpture and I seek to push the boundaries of making creating works from immersive installations to architecturally influenced sculptural interventions.
My work is driven by a constant enquiry into the psychological and emotional effects of constructed spaces.  Specifically I am interested in how the scale and proportion of constructed pieces relate to architectural space and how the human form interacts with and within these environments. I seek to provoke active responses in the audience and the way a given environment engenders this."
CJ Mahony is based in Cambridge and is co founder of artist run project space Aid & Abet and is currently studying at Camberwell College of Arts doing a MA Fine Art.
Recent projects include:
Borrowed Site: Commissioned by Situ Projects & Project Base, Redruth, Cornwall: curated by Jude Bennett 2010
Temporary Public Art for MacKay's Development, Commissions East 2011
Limited Addition, Temporary site responsive public art works on Orchard Park, Cambridge 2009
R/evolutions through Distribution – in partnership with curators on The Royal College of Art masters degree Curating Contemporary Arts and Escalator Visual Arts 2010
Does the public always know best? Part of the Detachment Collaboratory Forum sponsored by the Economic and Social Research Council, Girton College, Cambridge 2010
www.axisweb.org/artist/cjmahony
Alice O´Hanlon
"My work combines photography and painting with found imagery and objects. The resulting work follows a kind of imaginary narrative, a story unfolding, and explores a sense of journeying. I am interested in exploring how the physical and emotional landscapes we leave behind record our presence, and how those we move forward into are imbued with and moulded by our history.  I see the space beyond my images as an intimation of the future, while that which is portrayed within documents the past and a movement in time."
Alice O´Hanlon is a mixed media artist and is currently studying a Fine Art MA at Camberwell College of Art. She has a studio in north London at Candid Arts Trust. She has exhibited in the Islington Art and Design Fair and the Doxi Gallery in London and the Stark Gallery in Canterbury. Some of her work is also exhibited through on-line gallery ArtBeat London.
Samuel J. Wagner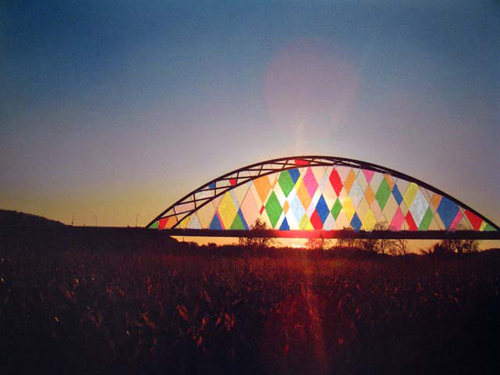 Samuel J. Wagner is an American artist working in London with the support of the Patrick and Kelly Lynch Award.  Informed by his experiences growing up in the Midwest, living in Alaska, and travelling throughout the American West, with little more than his car and the discarded food wrappers that inhabited that car, Samuel's studies have expanded and honed.  Investigating links between nature and digital modernity through the idea of questions without answers.
http://samuelwagner.tumblr.com
Preparatory Workshops
17 February: Seminar led by Brave New Alps - Artist talk and discussion "Collaboration – working with other artists"
17 March: Seminar (led by Louise Ford – Artist talk and discussion – TBC)  "Site specific practice"