Joya / Alice Forward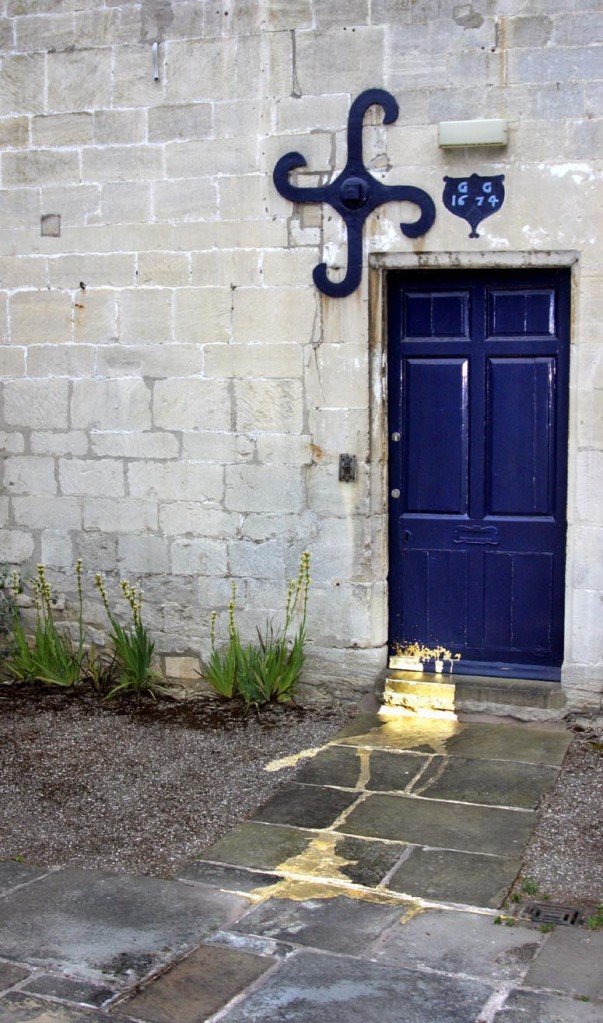 The ambivalences around the relationship between human beings and the 'natural' world strongly informs my practice, which often culminates in site-specific work after long periods of close observational research and studio-based experimentation. I work within a variety of disciplines, from video to bronze-casting, utilizing whatever material seems most appropriate to the moment.
I have recently been engaged in a number of clayworks, as well as large Sellotape constructions about floors, floods and oceans, some of which were shown at BAYART gallery in Cardiff earlier this year. I concurrently made a series of small bronze sculptures, photographs and drawings concerned with plant behaviour, which may form part of work towards a solo show in Stroud Valley Artspace early next year. I'm currently experimenting with wax as a modelling material for work concerning certain parasites.
Drawing has become increasingly important to me in recent years and I envisage this being a crucial element in the development of the work during and after the residency at Joya, which will be very much a response to the environment of the place. I expect I might also use materials that I find there, whether it be garbage, sand, clay, plants, bones, insects… in some reconfigured form. I am quite sure the coming dialogues with the Andalucian landscape and the people I meet at Cortijada Los Gazquez will be an important informant of my work for some time to come.
Alice Forward was born and brought up in Johannesburg, South Africa, and studied fine art at Hornsey School of Art (Middlesex) in London in the late seventies. She then  trained in documentary film-making and freelanced for BBC Television for many years before returning to her independent practise. She studied at the Centre for Ceramic Studies in Wales 2001-2004, and co-organized Site-ations International, an EU and Arts Council funded international art event staged in and around Cardiff in 2005. In 2006 she was invited to Bogotà, Colombia for a three month residency funded by Wales Arts International, and became a director of the international artists initiative Artists Project, in Cardiff later that year. She completed an MA in Fine Art at the University of Wales Institute, Cardiff, in 2007, before co-founding Jackdaw studios at Paintworks (now subsumed by BV Studios Bristol, under current construction). She was awarded the Darbyshire Award for gilding her urine on-site at The Museum in the Park in Gloucestershire in 2009.
Upcoming Exhibitions and Events 2010
March Where the Bee Stings (working title), solo show  Stroud Valley Artspace, Gloucestershire, funded by The Darbyshire Award
April/May Episcopal Growths (working title), solo show in 14th century crypt St John the Baptist, Bristol City
2009
November Joya artists residency,  Andalucia, Spain
October Drawing in the Dark II drawing event  St John's Crypt, Bristol, as part of The Big Draw, UK

Clay Wave (work in progress 2009)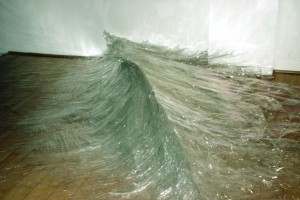 Ocean Wave
Sellotape, wooden floor
Sculpture installation, BAYART, Cardiff, 2009-09-14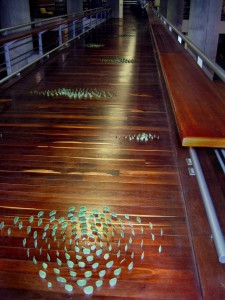 Invasion
installation: crassula leaves, tropical hardwood floor;  3x15metres,
Biblioteca Nacional de Tunal, Bogotá, Colombia, 2006
Recent Exhibitions and Events
2009
Winner of The Darbyshire Award finalists show, Museum in the Park, Stroud, Gloucestershire, selected by Tom Trevor, director of ARNOLFINI, Bristol
Drawing in the Dark drawing event at STATION, Bristol, as part of the Bristol Drawing Exchange Festival curated by Lady Lucy and Kayle Brandon, (ACE funded)
Curatorial Contrasts group show at BAYART, Cardiff
2008
A momentary with Louise Short, screened at the Cube Cinema as part of the Tblisi Film Festival (ACE funded), and Illuminate in 2009
Cimb, film commission for the Forest of Dean Sculpture Trust, in collaboration with the Forest of Dean Forestry Commission and ten Forest teenagers (ACE funded)
2007
Being Bird, a collaborative performance with Louise Short at Stroud Valley Artspace, as part of Resound Art/Radio sonic art conference, Stroud (ACE)
Weedworks, sculpture and drawings, and Room, a sonic sculptural installation in the Cardiff MA Show at Howard Gardens, UWIC, Cardiff
Organisation and curation of Very Important Products, a group show of 12 Wales-based artists at Centrespace Gallery, Bristol
Gold Label, one of a series of public interventions in central Bristol, within the context of Very Important Products
2006
Regeneracion, solo show, Biblioteca Nacional de Tunal, Bogotà, Colombia (Wales Arts International funded)
Pista de Oro, public intervention in Venice, Bogotà, representing Wales in the Venice Bienal de Bogotà 2006, Colombia (Wales Arts International)
2005
Line I and LineII, photographic and sculptural installations for The Marconi Project, residency on Flat Holm Island, Bristol Channel, as part of Site-ations International 2005-6, curated by Artists Project(EU, Wales Arts International)
Ghost, sculpture installation in Roath Park, for Cardiff Parks
2004
Ice-cycle, video installation in From the Ground Up, group show at The Old Brewery Galleries, London
Bloodlines, BA Ceramics show, sculpture and video installation, Howard Gardens, Cardiff
2003
Fossil fuel, installation, National Museum of Wales, Cardiff