Joya / Kate Davis & David Moore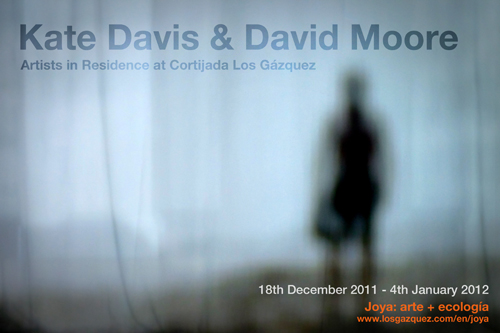 -
We have been collaborating as artists for a few years now. Sometimes working very directly with each other and at others times in a looser role; acting more as a kind of sounding board for each other. Our working relationship is based on a common sensitivity and a fluency in the way we create and also how we read ours and others work. We use this and our knowledge and experience of making to define and refine ideas for new work through dialogue.
So far the work we have engaged with has been very diverse, ranging from large and permanent public commissions through to short intimate films.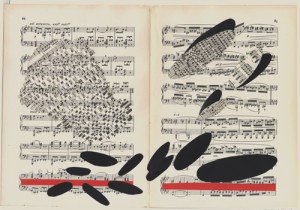 An idea that has been incubating for a while now is the desire to collaborate on a book which combines images with text. This idea came out of a series of collages called Duende that Kate began two years ago triggered by the death of her mother. Working in David's studio up in Scotland Kate felt more able to tackle this subject at a distance from her familiar environment and from the one she had shared with her mother before her death. David talked with Kate around the work and helped her articulate her thoughts about the pieces.
This kind of stimulus and response, involving text and poetry in a discourse with imagery made through collage, seemed to ask to be given further consideration in its own right and as a starting point. The possibility to literally cut and paste in the twin processes make it seem an obvious way to collaborate across the disciplines, shaping and reshaping their forms through a continuing dialogue.
We have been waiting for an opportunity and a location that feels the right time and place and Joya: arte + ecología at Cortijada Los Gázquez possibly is it. It's a gut thing.
Kate Davis & David Moore
23.10.11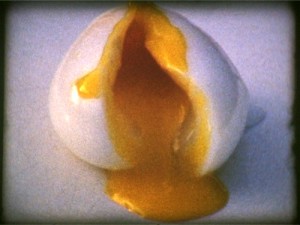 Kate Davis lives and works in London. She is a lecturer at the Royal College of Art in the Sculpture Department and was made a fellow in 2009. Davis has exhibited widely nationally and internationally and has received numerous awards, including the Sydney Water Sculpture Prize; the Jerwood Drawing 1st Prize; the SARGANT Fellowship, British School at Rome and Young Artist of the Year, Whitechapel Gallery.
Her solo exhibitions include Batteries and Giants, Whitechapel Gallery, come at Newlyn Art Gallery, headhearthole at the Wordsworth Trust and recent group shows include Kate Davis & Roy Voss at the Russian Club and 21 at Harewood House, Leeds. She is represented by FRED (London) where she had her most recent solo show hhh 2011.
David Moore is Head of Sculpture at Edinburgh College of Art. Born in 1963 in Edinburgh, he now lives and works from his studio in the small town of Biggar close to the Scottish Borders.
His work is held in private and public collections around the world and he has undertaken residencies and symposia in countries including Japan, Switzerland, America, Macedonia and the Ukraine. Moore works across many media but considers his core thinking to be centred in the discipline of sculpture.
Kate Davis and David Moore began collaborating on selected projects under the heading of ME/WE Productions in 2010. Their short film THE CUT has recently been shortlisted for Best Film Award in the Swedenborg Society, London.