AGUAZERO/Joya: arte + ecología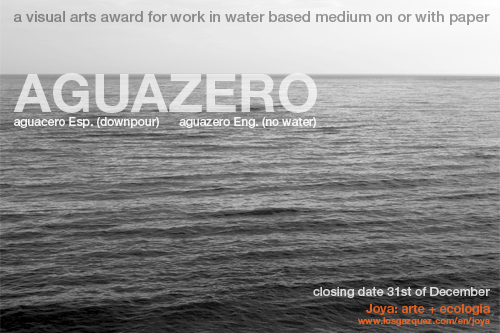 Competition Joya: arte + ecología
AGUAZERO aguacero Esp. (downpour) aguazero (no water)
Theme:
We are inviting submissions in water-based medium on or with paper.
The competition has an environmental agenda requesting submissions to reference the contrary character of climate change. For example, increased desertification and the escalating effects of weather events such as flooding and soil erosion.
The work should be based on observation, experience and invention. It must be as involved with the process and materials of painting/drawing etc. as with the response to climate change.
We are interested in works that invite close scrutiny and, like environmental events in the world around us, reveal themselves gradually and steadily over time, prompting reaction and renewed contemplation of the ecological challenges the world faces.
Prize:
A two week residency at Cortijada Los Gázquez / Joya: arte + ecología, Andalucía, Spain including travel costs within Europe (not accommodation while in transit). Winners from outside of Europe can have their travel expenses paid once they are within the EU.
The winners will have sole use of a thirty square meter studio and 20 hectares of land for the period. Accommodation and meals are included as is collection and return to the nearest public transport system. Resident artists will be featured on the Joya: arte + ecología web page, which will include biographical information and images. The work undertaken during the residency will also be documented and entered into our archive.
Selectors:
Ana García López (Vice Dean for Institutional Relations and Professor at the Drawing Department. Faculty of Fine Arts. University of Granada. Spain)
Rebecca Fortnum (Artist, Reader in Fine Art, University of the Arts, London. UK)
Louise Short (Artist. Bristol. UK)
David Crawforth (Artist. Director at Beaconsfield. London. UK)
Molly Hogg (Collector. London. UK)
Melissa Marks (Artist. NYC. USA)
Angie Lewin (Artist. Norfolk and Scotland. UK)
Simon Lewin (Proprietor St Jude's. Norfolk. UK)
Gonzaga Gómez-Cortázar Romero (Communications co-ordinator for Joya: arte + ecología. Spain)
Simon and Donna Beckmann (Founders of Joya: arte + ecología. Spain)
Application:
There is an administration fee of 15€ per application allowing submission of up to three images.
Applicants should e-mail [email protected] with their name, address and passport number/ID (Spanish legal requirement) stating their intent to enter whereupon they will receive instructions on paying the entry fee via PayPal.
Once the administration fee is paid applicants are invited to submit up to three images at 300dpi and a maximum dimension of 1000 pixels on the longest side. Please do not send individual e-mails exceeding 1mb. Several e-mails will suffice.
We will also require a statement contextualising the submission of no more than 250 words in English or Spanish.
The application should include up to 1 link, where images etc. of their work can be found as well as the name and contact of someone who can act as a referee.
Closing Date:
31st December 2011.
The winner will be announced by the end of January 2012.
Aguazero is supported by…

About Joya: arte + ecología at Cortijada Los Gázquez:
Joya: arte + ecología is in it's relative infancy being only two years old, however we have had nearly fifty artists through our doors in that time. We call ourselves 'art and ecology' because we have an environmental agenda. We live sustainably which is the first step in our ecological pilgrimage for 'we need to be the change we wish to see in the world'. It seems a logical starting point…
Cortijada Los Gázquez, the home of Joya: arte + ecología, is on fifty acres of mountain inside the Parque Natural Sierra María-Los Vélez in northern Almería and has been built on entirely sustainable principles. Sun and wind provide ample electricity and hot water for the house and wood collected from our land and the forest heats the house through radiant floors in winter. We also harvest rainwater from the roof for use throughout the house. Our waste is recycled by grey water systems, which irrigate fruit trees, reed beds that clean black water and irrigate trees for 'bio-mass' and utilising public recovery systems.
We describe the architecture of the building through its three-year renovation as 'new vernacular'. We were fanatically keen to keep the building traditional down to the smallest detail. It was important to us that the building continued to relate to its environmental context and available materials. We didn't want to undo the unconscious work of craftsmen whose construction knowledge was accumulated over many generations. Nevertheless new 'clean' technologies and principals had to be employed to make this building the comfortable place it is today. But through this process we have maintained a kind of 'analogous inspiration' keeping the interior under furnished, bright and minimal.
The location for us was also important. We are completely 'off-grid', which fosters a keen sense of self-reliance. We are also remote being 14km from our village, Vélez Blanco. When we made the choice of where this project was going to be the choice was between mountains or sea, wilderness or culture. Well we chose them all. We are 1000m up in the mountains but 80km from the 'Cabo de Gata' national park, one of the few remaining unspoilt coastlines on the Mediterranean. We live in the semi-wilderness and yet within two hours we can be in Granada where we have an affiliation with the Facultad de Bellas Artes at the university there.
Our location, inside the Parque Natural Sierra María-Los Vélez, is essential for the aspirations of our residency/opportunity. The natural park (founded in 1987) covers 22,500 hectares of sedimentary limestone leaching pockets of red sandstone and domes of white clay cut through by erosional 'barrancos' and dry fluvial systems. We are in a 'summer dry' climate, which switches winters from warm Mediterranean to cold continental. North facing slopes are forested with Aleppo pine; southerly slopes and cliffs are populated with Ibex and Griffon vultures. We have a good range of birds of prey too.
Why do we consider this location so important? We are on the edge of the only designated European desert so the effects of climate change are more keenly felt. The consequent decline in agriculture through changing rainfall patterns and inappropriate subsidies has led to monocultured farming practice, which is un-sustainable resulting in population decline and ultimately to the neglect of cultural history.
Our aim is to be a 'cultural' and 'sustainable' destination, so where more appropriately could we invite artists to explore, interpret and explain such abstract concepts as global warming or climate change or merely establish an understanding with nature? We believe above other things creativity is the process of having original ideas that have value through the interaction of different disciplines and different ways of doing things. Joya: arte + ecología is designed to do just this. Our exploration is to build a new notion of human ecology, one in which we seek to re-establish our conception of the richness of human capacity in the face of the challenges we face with the future environment.
So, this is Cortijada Los Gázquez and the Joya: arte + ecología agenda. It can appear political but its intension is not particularly overt. First and foremost our enthusiasm is for the creative arts. Joya is our opportunity to curate art here in the mountains either permanently or ephemerally. It's our opportunity to facilitate artists, whose work we admire, with time and space for their own development and it's also our opportunity to facilitate and promote the work of emerging artists. It is these activities (along with other initiatives in the area), which will preserve human culture in this little known area, and as a consequence they will preserve the land and it's wildlife.

Download this document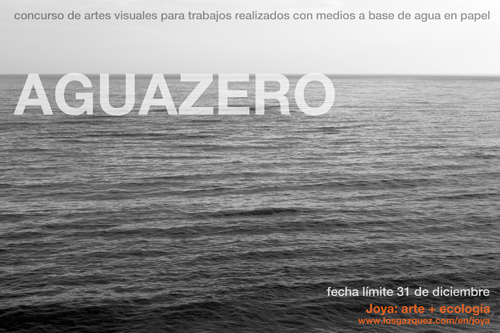 Concurso Joya: arte + ecología
AGUAZERO
Tema:
Invitamos a presentar trabajos realizados con medios a base de agua sobre papel o con papel.
El concurso tiene un propósito medioambiental, por lo que las propuestas deben hacer referencia al carácter adverso del cambio climático. Por ejemplo, la creciente desertificación y la intensificación de los efectos de fenómenos meteorológicos como las inundaciones y la erosión de la tierra.
El trabajo debe estar basado en la observación, la experiencia y la invención. Tiene que estar tan comprometido con el proceso y los materiales de pintura/dibujo, etc., como con la respuesta al cambio climático.
Nos interesan trabajos que inviten a un examen cuidadoso y, como los sucesos medioambientales que ocurren en el mundo, se vayan revelando a sí mismos gradualmente y a un ritmo constante a lo largo del tiempo, incitando a la reacción y a una contemplación renovada de los desafíos ecológicos a los que el mundo se enfrenta.
Premio:
Una residencia de dos semanas en Cortijada Los Gázquez / Joya: arte + ecología, Vélez Blanco, Almería, España, incluyendo los costes de viaje dentro de Europa (a excepción del alojamiento durante el trayecto). A los ganadores de fuera de Europa se les pagará los gastos del viaje una vez estén en la Unión Europea.
Los ganadores tendrán uso exclusivo de un estudio de treinta metros cuadrados y 20 hectáreas de terreno. El alojamiento y las comidas están incluidos, así como el viaje de ida y vuelta al transporte público más cercano. El artista figurará en la página web de Joya: arte + ecología, donde se incluirá información biográfica e imágenes. El trabajo llevado a cabo durante la residencia también será documentado e introducido en nuestro archivo.
Jurado:
Ana García López (Vicedecana de Relaciones Institucionales y Profesora del Departamento de Dibujo. Facultad de Bellas Artes, Universidad de Granada. España)
Rebeca Fortnum (artista. Profesora adjunta de Bellas Artes, University of the Arts, Londres. RU)
Louise Short (artista. Bristol. RU)
David Crawforth (artista. Director de Beaconsfield. Londres. RU)
Molly Hogg (coleccionista. Londres. RU)
Melissa Marks (artista. Nueva York. EEUU)
Angie Lewin (artista. Norfolk y Escocia. RU)
Simon Lewin (propietario de St. Jude's. Norfolk. RU)
Gonzaga Gómez-Cortázar Romero (coordinador de comunicación de Joya: arte + ecología. España)
Simon y Donna Beckmann (fundadores de Joya: arte + ecología. España)
Solicitud:
La cuota de participación es de 15€ por solicitud y se pueden presentar hasta tres imágenes.
Los interesados deben enviar un e-mail a [email protected] con su nombre, dirección y número de DNI o pasaporte indicando su deseo de inscribirse. A continuación, recibirán instrucciones sobre cómo pagar su cuota de participación a través de PayPal.
Una vez se haya pagado esta cuota, los solicitantes serán invitados a presentar hasta tres imágenes a 300 píxeles por pulgada y con un máximo de 1000 píxeles en su lado más largo. Se pueden enviar varios e-mails y cada uno no debe exceder de 1mb.
Asimismo, se deberá enviar un texto, en español o en inglés, de no más de 250 palabras contextualizando la presentación de los trabajos.
La solicitud deberá incluir un enlace de internet donde se puedan encontrar imágenes, etc., de su trabajo así como el nombre y contacto de alguien que pueda servir de referencia.
Fecha límite:
31 de diciembre de 2011.
El ganador será anunciado a finales de enero de 2012.
Aguazero cuenta con el apoyo de…

Sobre Joya: arte + ecología en Cortijada Los Gázquez:
Joya: arte + ecología tiene tan sólo dos años de edad y, sin embargo, ya han pasado por nuestras puertas cerca de cincuenta artistas durante ese tiempo. Nos llamamos "arte + ecología" porque tenemos un propósito medioambiental. "Debemos ser el cambio que queremos ver en el mundo", y vivir de manera sostenible es el primer paso que hemos dado para ello. Parece un punto de partida lógico…
Cortijada Los Gázquez, el hogar de Joya: arte + ecología, está situado sobre veinte hectáreas de montaña dentro del Parque Natural Sierra María-Los Vélez en el norte de Almería y ha sido construido en su totalidad según principios ecológicos. El sol y el viento proporcionan electricidad y agua caliente para la casa y la madera que recolectamos en nuestra tierra y en el bosque calienta la casa a través de suelos radiantes en invierno. También recolectamos el agua de la lluvia del tejado para su uso en toda la casa. Reciclamos nuestros residuos a través de sistemas de aguas grises que riegan los árboles frutales, de cañaverales que limpian las aguas residuales y riegan árboles para producir biomasa, y utilizando sistemas de recuperación públicos.
Tras tres años de renovación, describimos la arquitectura del edificio como "vernácula nueva". Queríamos que el edificio siguiese siendo tradicional hasta el más pequeño detalle, y nos parecía importante que continuara estando directamente relacionado a su entorno y a los materiales disponibles. No queríamos deshacer el trabajo realizado por los artesanos, cuyo conocimiento de construcción se fue acumulando a lo largo de muchas generaciones. No obstante, hubo que emplear nuevas tecnologías limpias y nuevas vigas maestras para hacer de este edificio el sitio confortable que es hoy. Aunque durante todo el proceso nos inspiramos en el estilo original de la casa, quisimos mantener el interior poco amueblado, luminoso y sobrio.
El emplazamiento era igualmente importante para nosotros. Estamos completamente "fuera de la red", lo cual alienta un profundo sentido de confianza en uno mismo. También estamos apartados, ya que estamos a 14 kilómetros de nuestro pueblo, Vélez Blanco. Cuando elegimos dónde íbamos a realizar este proyecto las opciones eran el mar o la montaña, la naturaleza virgen o la cultura. Al final, lo elegimos todo. Estamos a 1000 metros de altura en las montañas, pero a 80 kilómetros del Parque Nacional de Cabo de Gata, uno de los pocos litorales vírgenes que quedan en el Mediterráneo. Vivimos en plena naturaleza y, sin embargo, en dos horas podemos estar en Granada donde estamos afiliados a la Facultad de Bellas Artes de la Universidad.
Nuestra ubicación, dentro del Parque Natural Sierra María-Los Vélez, es esencial para las aspiraciones de nuestro programa de residencia/oportunidad. El parque natural, fundado en 1987, cubre 22.500 hectáreas de piedra caliza sedimentaria, arenisca roja y domos de arcilla blanca cortados por barrancos generados por la erosión y sistemas fluviales secos. Tenemos un clima mediterráneo seco, que en invierno nos da unas temperaturas que pueden pasar de templadas a frías, más propias del clima continental. Las laderas de la cara norte están sembradas con pino de Alepo; las laderas y acantilados de la cara sur están pobladas de cabras montesas y buitres leonados. También tenemos una amplia variedad de aves de rapiña.
¿Por qué consideramos que esta ubicación es tan importante? Estamos en el borde del que es considerado único desierto de Europa y aquí los efectos del cambio climático se hacen más patentes. El deterioro en la agricultura debido a la variabilidad de las precipitaciones y a los subsidios inapropiados ha llevado a prácticas de monocultivo, lo cual es insostenible y ha dado como resultado un descenso en la población y, en última instancia, el abandono de la historia cultural.
Nuestro objetivo es ser un destino cultural y sostenible, de manera que ¿en qué lugar más apropiado podríamos invitar a artistas a explorar, interpretar y explicar conceptos tan abstractos como el calentamiento global o el cambio climático o simplemente establecer un entendimiento con la naturaleza? Nosotros creemos que la creatividad es el proceso de tener ideas originales que tienen valor a través de la interacción de diferentes disciplinas y diferentes maneras de hacer las cosas. Joya: arte + ecología está diseñado para hacer esto. Nuestra exploración consiste en construir una nueva noción de ecología humana, una en la que buscamos restablecer nuestra concepción de la riqueza de la capacidad humana frente a los desafíos a los que nos enfrentamos con el futuro medioambiente.
Esto es Cortijada Los Gázquez y los propósitos de Joya: arte + ecología. Todo ello puede sonar político, pero nuestro entusiasmo son, ante todo, las artes creativas. Joya es para nosotros una oportunidad para seleccionar, organizar, realizar y exhibir arte aquí en las montañas, ya sea de forma permanente o efímera. Nos permite facilitar tiempo y espacio a los artistas cuya obra admiramos para su propio desarrollo, y también es una oportunidad para facilitar y promocionar el trabajo de artistas emergentes. Estas actividades (junto a otras iniciativas relacionadas) es lo que conservará la cultura humana en esta zona tan poco conocida y, en consecuencia, lo que preservará la tierra, su fauna y su flora.

Descargar bases