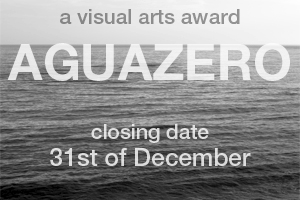 Friend and collaborator with Joya: arte + ecología, Gill Nicol of lightsgoingon (former Head of Interaction at Arnolfini Gallery; Director of Spike Print Studio in Bristol and numerous other things) has kindly offered to help us ameliorate our arts award, AGUAZERO.                      Joya: arte + ecología is inviting submissions for a competition which has an environmental agenda.
This is the second week Gill Nicol, as an independent arts consultant specialising in contemporary art, has  looked at an artist who has engaged with environmental issues through their work. These 'posts' are designed to be 'inspirational prompts' for those considering applying for the award. She will be posting on her web site, lightsgoingon, and here on our blog as well as on the Joya: arte + ecología Facebook Page.
Art and Ecology – Tue Greenfort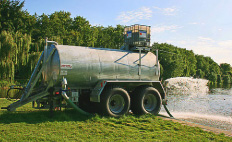 Tue Greenfort was born in Denmark in 1973,  and now lives and works in Berlin and New York. His work is a mix of both conceptualism and direct action drawing our attention to environmental concerns. His approach can be both practical and impractical, but his aim is to raise awareness of the issues, even if the idea doesn't quite work.
For Munster, Germany, in 2007, his piece Diffuse Eintrage (translated as Diffuse Deposits) was a manure-spreading lorry that pumped a chemical solution – iron (III) chloride – into the picturesque, artificial Lake Aasee in the heart of the city. This work reflected on the way toxic algae had infected the lake, created by intensive meat farming in the area. The chemical additive created the ecological equilibrium back to the lake by binding with the polluting phosphates making them sink. However, this itself gave off a powerful smell, highlighting how man and his interventions disrupts the fragile but formally balanced ecosystems.
He recently had a show at South London Gallery, responding to the gallery's location and history, and with a focus on ecological issues. Conservation, 2011, consisted of a dead tree trunk, placed inside a glass case, gradually decomposing over the time of the exhibition.  Sawdust gradually appeared at the bottom of the case, made possible by the bugs and wood beetles still active within.
In Oyster Mushroom Production (Mycorrhiza), edible mushrooms were cultivated by the artist inside straw coffee bags and on coffee grounds used by the gallery café. At the end of the show these were picked, cooked and served to visitors.
Another work, Supermarket Shelving System, 2011, both focused on the way the big supermarkets manipulate the decisions about what we eat, along with a connection to the museum vitrine. He also included a number of books and pamphlets, such as Limits to Growth (1972), a key work that impacted on many environmentalists and policy makers.
He is currently planning a new work for Bristol, involving sand martins – see here for more details. Finally, in his own words:
'Art has the ability to elaborate and open up discourses without being labelled and categorized as this or that political faction. It can draw on a more complex system of references and the interdisciplinary than a purely politically defined activity.'
This blog is the second in a series, looking at artists and ecology, as part of an invitation by Los Gazquez and their opportunity/residency award AGUAZERO/Joya: arte + ecología