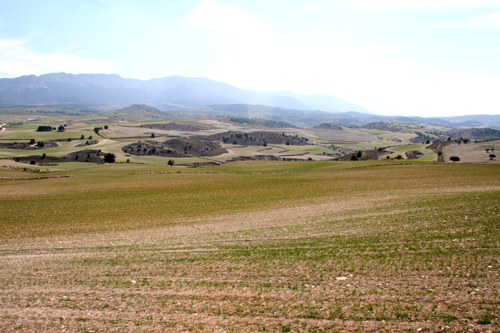 If God liked golf this would be the kind of golf course I imagine he would have designed. However this isn't a golf course but the spring oats sprouting from the dry ground to the north of the Sierra Maria-Los Velez. This is a high plain that runs in a westerly direction towards Orce, Cullar, Baza and Guadix.
And here is the irony. Predictions announced by the Environment Minister last week state that Spain is heading for one of the driest springs since records began sixty years ago. The average rainfall for this time of year is 12.4 litres per square meter, however, so far it has only averaged 2.8 litres this year.
The Segura, Guadalquivir and the Ebro in Catalonia are all low and national water reserves are only 45.3 percent full.
All the indications point towards a long, hot summer with urban conurbations experiencing water shortages.
So why do they keep building golf courses? Why do they keep building houses that don't collect rainwater?
Oscar Wilde said that golf is a good walk spoiled. I think in these climates, unless they introduce more sophisticated irrigation systems using reclaimed water, golf is a good environment spoiled.
And what's more what is this golf course design aesthetic anyway? You don't need green grass to 'whang' a ball around the countryside. Why not make them 'environment specific'?