Joya / Tamsin Pender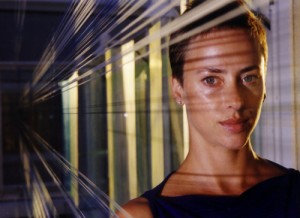 I would respond to the fantastic opportunity of a Joya residency by exploring how the unique location informs an activity I have pursued for some time, and how it might be changed and developed by it.
For the past ten years I have been making low-fi forays into the great outdoors. These hit and run interventions at found sites have a short shelf life and a low environmental impact. Visually dramatic, they aim to change a view, and the perception of the viewer. For a brief time they become a source of contemplation, a screen to look at and through. Once they have disappeared, only photographs remain to record them. I would use the indoor and outdoor spaces at Los Gazquez, to make work in an exciting yet unfamiliar environment (the mountains!) and to find new ways to document the work that celebrates the making of it.
I have often been asked by curious onlookers, while making these interventions, what was the purpose of the structure – was it for catching insects or deterring gulls? While they may not be as practical as your swales at catching precious rainwater, I have been fantasising that these forms may have a playful relationship with the existing and ongoing constructions at Los Gazquez.
Tamsin Pender (born Cornwall) lives and works in London. Tamsin completed post-graduate studies at the Royal Academy Schools in 1990 and has since exhibited widely, including at the Tate Gallery St Ives, Walsall New Art Gallery and Beaconsfield, London. Recent projects include participatory art and design pieces, exhibited at the V&A Museum of Childhood, The Saison Poetry Library and the Royal Festival Hall, Southbank Centre.