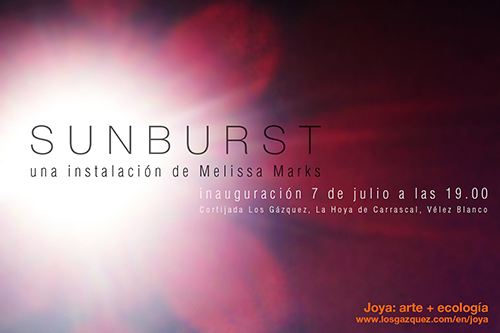 New York artist Melissa Marks has returned to Cortijada Los Gázquez to pursue an ongoing dialogue with her 2011 installation, 'Suntrap'. This second discourse is entitled 'The adventures of Volitia: SUNBURST'.
Next Sunday you are all invited to the opening of this monochrome artwork during the sunset.
RSVP to [email protected]

La artista de Nueva York Melissa Marks ha vuelto a Cortijada Los Gázquez para continuar un diálogo con su obra de 2011 "Suntrap". Este segundo discurso se titula "Las aventuras de Volitia: SUNBURST".
El próximo domingo 7 de julio, durante la puesta de sol, estáis todos invitados a la inauguración de este trabajo monocromo.
Los interesados deben enviar un e-mail a [email protected] para confirmar su asistencia.