Date: Lets you know which monthly edition you are currently subscribed to. At the end of each month the content will be renewed. Back issues are available upon request.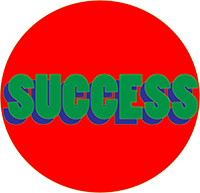 One Rule for Moderate Success each month. Los Gázquez's many years of experience teaching art has led us to a methodology that quickly allows you to focus your creative thoughts in a considered manner. As an artist you will ask yourself on so many occasions 'What must I do to make this work?' or 'How can I best stay focused on what I need to do to make my work look good?'. The Los Gázquez 'rules for moderate success' supply you with the means to answer these questions and consequently achieve better results from your art.
One Rule of Opposition each month. Whilst we strive to do the 'right' thing to attain certain results from our artwork, more often than not the thing that stops us achieving our goals is doing the 'wrong' thing. The Los Gázquez 'rules of opposition' are often funny, sometimes sarcastic, but always poignant. If we 'learn by our mistakes' we will learn more quickly by identifying errors at the beginning of the process rather than with the benefit of hindsight.
An Approach Strategy each month. How many times do we ask ourselves 'Ok, I know what I want to paint (etc.) but where do I start?'. The Los Gázquez 'approach strategies' are just this. We teach approaches which you can adopt that are reasoned about the best ways to achieve your aims with your artwork. By learning how to plan ahead you can accelerate your personal success rate.
Technique. Each month we teach you a technique, be it about colour or medium etc. We make a concise and informed description often revealing snippets of information that have escaped you or that you had not previously considered. Often artists struggle for a medium as much as a subject matter. The way Los Gázquez teaches you techniques allows you to consider the dialogue with a medium, which is as important a conversation as that with your subject.
Colour of the Month. Have you ever considered that a colour has a history, or a reputation? Have you ever considered that its means of production might not be the obvious chemical concoction but something with more obscure origins? Have you considered that some colours behave differently with their neighbours than other members of it's family and why? Each month we will look at a different colour and examine these questions. It will be interesting, fun and engaging.
A Featured Artist each month. Familiarity with as many artists and their work as possible is crucial to your understanding as to how images are made. By examining the work of a different artist each month we learn to explore the concerns they have with their work and, most importantly, how they expressed those concerns through the mediums they used. The internet is no substitute for experiencing artworks first hand but we can make an introduction to the artist and let you know where you can find the work.
Personal and Professional Practice. If you are beginning to take your art more seriously than just being a hobby there are ways in which it must be presented to maximise the quality of your work. Each month we give advice on the best way to represent your creativity to the outside world. This will take many forms, such as portfolio presentations, web sites, editing and more. Los Gázquez is keen that you should be looking your best.
Artists' Insight. Each month Los Gázquez will invite a practising artist of their acquaintance to give a brief insight into either their working practice and/or a sound critical maxim that has guided them in their careers. You will also be linked to that artist's website so that you can see their work and how they represent themselves. This will prove to be enlightening and great to be introduced to some very good contemporary artists.
Atelier. If there is one thing we at Los Gázquez like above all others it's a great photo of either an artists studio or the artist in their studio. It tells you so much about their work. It gives great insight as to those who need chaos and those who need order. It tells you who requires a process and who requires anarchy.
You. Here is your opportunity to show the rest of our community your work. And if you are brave enough to allow our scrutiny we are happy to tell you what works and maybe what doesn't. As online criticism to your fellow subscribers your example is a great learning tool for all.
What's Out There. Each month Los Gázquez will suggest a few exhibitions around the globe that we would recommend. So, if you happen to be in any of those countries you can take the opportunity to go and see the show and hopefully learn something new.