Joya / ecoarttech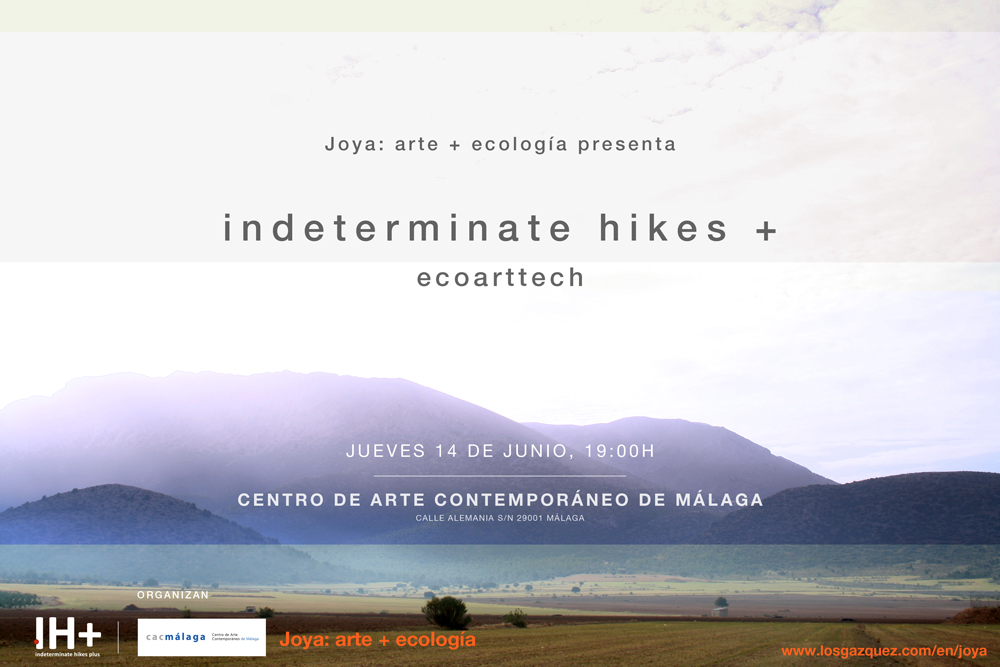 Joya: arte + ecología presents ECOARTTECH's IH+ at Centro de Arte Contemporáneo de Málaga
As part of the residency of ECOARTTECH  at Joya: arte + ecología / Cortijada Los Gázquez in June 2012 we are pleased to announce that Joya: arte + ecología in collaboration with Centro de Arte Contemporáneo de Málaga present an Android App. performance by ECOARTTECH: Indeterminate Hikes+.
'Using our Android mobile phone app, we will lead an "indeterminate hike" beginning at CAC Málaga and install an optional "Base Camp" from which to instruct participants how to hike indeterminately and go on wilderness trips in an urban city.
Indeterminate Hikes+ (IH+) is an Android app that transforms everyday landscapes into sites of bio-cultural diversity and wild happenings. Generally devices of rapid communication and consumerism, smartphones are re-appropriated by IH as tools of environmental imagination and meditative wonder, renewing awareness of intertwining biological, cultural, and media ecologies and slowing us down at the same time.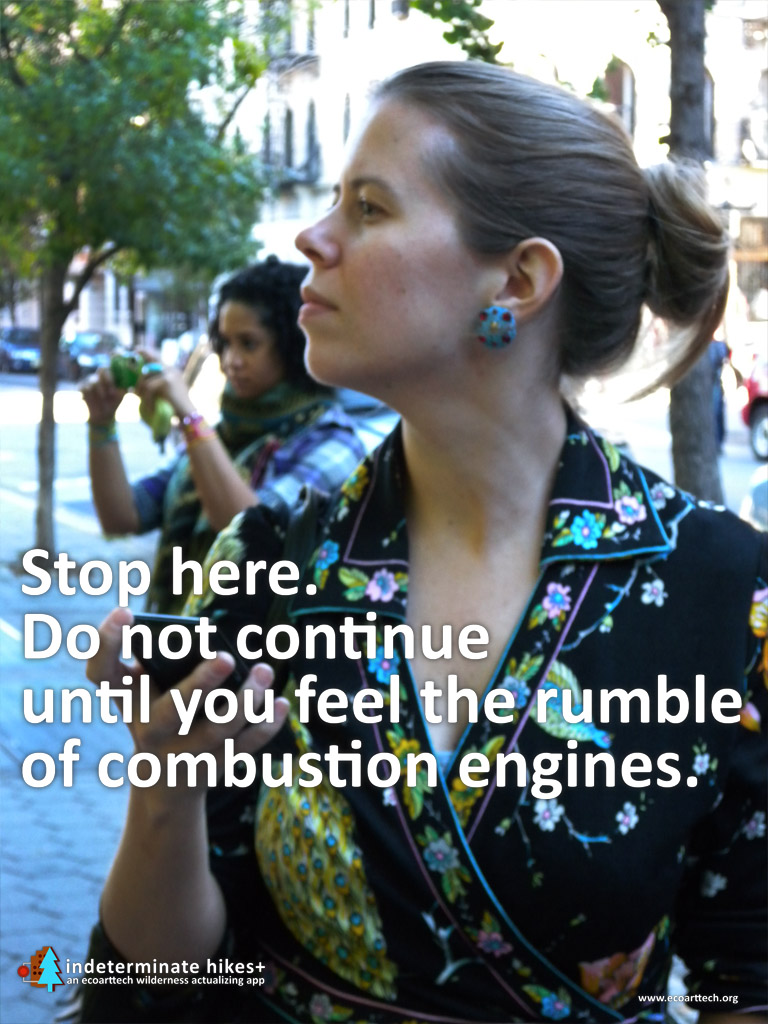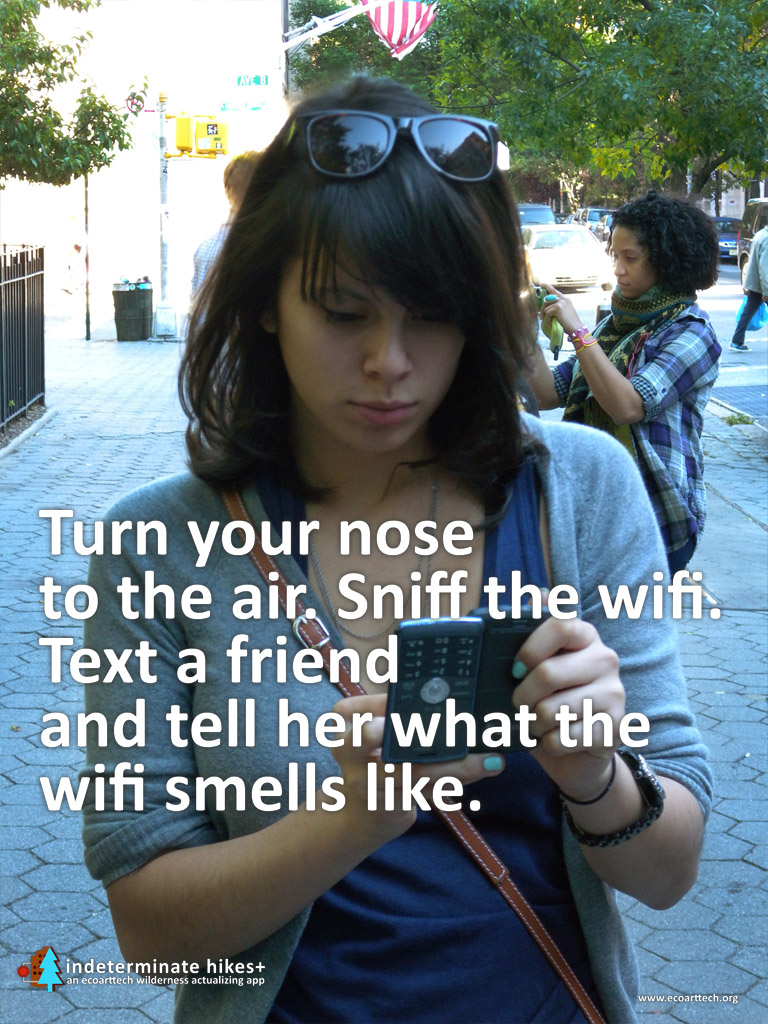 The app works by importing the rhetoric of wilderness into virtually any place accessible by Google Maps and encouraging its users to treat these locales as spaces worthy of the attention accorded to sublime landscapes, such as canyons and gorges. This project extends from ecoarttech's belief that ecological awareness must be based in the places that humans actually live, not just in relatively uninhabited natural spaces. We also believe it is essential that conversations about environmental sustainability and ecological management be democratized through the arts, and not only considered within a scientific context.
Ecoarttech installs a mixed-media "Indeterminate Hikes Base Camp" in tandem with performances. This includes a tent with sleeping bags alongside a projection of the IH app and scattered traces of local environments. For our forthcoming solo show at Syracuse University's Warehouse Gallery, concrete "rocks" from a nearby defunct dam, graffiti referencing the underpass across the street, and shipping palettes as markers of the city's Erie-Canal shipping history are included. Together, the Indeterminate Hike and the Base Camp set the tone for reinvigorating experiences of local environments, to see them as spaces rich with historical, cultural, biological diversity, and worthy of emotional attachment and ecological protection.'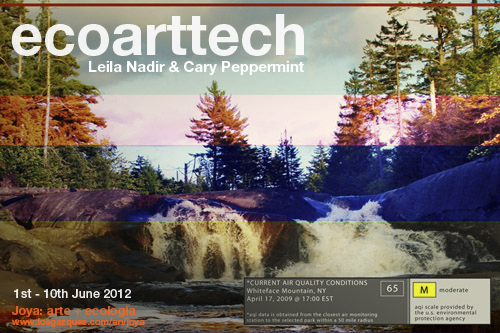 -
Our Time at Joya: arte + ecología
ecoarttech is excited about the opportunity to further explore our philosophies and practices in the unique environment provided for artists at Joya: arte + ecología, Cortijada Los Gázquez. We spend a lot of time in the North American wilderness, and we believe Los Gázquez and the Joya facilities would provide the opportunity to respond to a new type of "wild" space, including a new ecosystem and the off-the-grid design.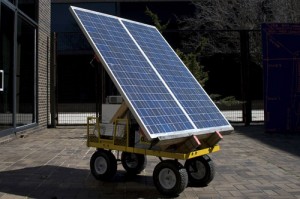 We would bring to Joya: arte + ecología our computer and video equipment, including portable solar panels so that we would be able to make work and even complete performances in the field. A vital part of our art practice includes examining how our psychologies and mentalities are transformed by digital technologies, which many environmental thinkers assume efface attachments to local places. At Joya: arte + ecología, we will continue our inquiry into the ways in which digital mobile technologies might work synergistically with ecological awareness. We are also looking forward to the opportunity to create video footage at Cortijada Los Gázquez toward the creation of a new work that will update and augment our previous Wilderness Trouble work, tentatively titled Wilderness Trouble, Five Years Later, with a release date of 2012.
As professors, we very much enjoying talking to community members about the issues raised by environmental art. We are intellectually, artistically, and personally committed to creating dialogue between the city and the country—learning from the skills developed by people living in rural settings as well as from those of people in the city. As artists who travel frequently, we often have the opportunity to work with local artists collaboratively, and these sorts of interactions inspire us. For example, while at the University of North Texas, where we were commissioned to make a work about the state's water scarcity problems, we worked with local artists on collaborative works exhibited at the culmination of our artist residency. We are especially attracted to Joya: arte + ecología for the opportunity it provides to connect with people in the local community.
About ecoarttech
The ecoarttech collaborative, co-founded by Leila Nadir and Cary Peppermint in 2005, explores environmental issues and convergent media and technologies from an interdisciplinary perspective, including art, digital studies, philosophy, literature, and eco- criticism. For ecoarttech, the termenvironment does not refer only to nature or geographic spaces; rather, we understand it as part of an interwoven network of biological, cultural, mental, and technological spaces, and we imagine the health of each as indistinguishable from the health of others. In the words of Gregory Bateson, the planet is part of humans' "eco-mental system": "if Lake Erie is driven insane [by pollution], its insanity is incorporated in the larger system of your thought and experience."
What makes ecoarttech's practice unique is its simultaneous engagement with issues of sustainability and new media culture. In our thinking about 21st-century humanity's relationship to nature and the environment, we use both digital and sustainable technologies, such as smartphones and solar panels. Our aim is to create a dialogue about how environmentalism and digital culture need not be mutually exclusive. If humans are both biological and technical beings, perhaps there are ways to rethink the traditional antagonism between sustainability and modernity. More information about our work can be found at www.ecoarttech.net. Some of our most recent works include: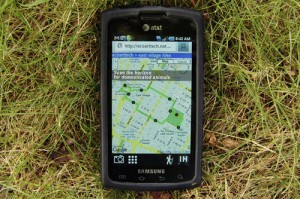 Indeterminate Hikes: Commissioned by the Whitney Museum of American Art Independent Studies Curatorial Fellows, Indeterminate Hikes is a smartphone app that guides participants on hikes through the wilderness of urban spaces. This work attempts to transplant the experience of ecological awareness into the city and also rethink the usual "high-speed" use of ubiquitous computing devices, by making smartphones catalysts for slowing-down and meditation.
Eclipse: Commissioned by Turbulence.org of New Radio & Performing Arts, Inc., Eclipse is a web-based artwork-application that alters and corrupts networked photostreams of United States national and state parks based on the real-time Air Quality Index (particle pollution data).
Wilderness Trouble: This video has been translated into numerous languages and was selected by the European Media Art Festival for its Special Tour through seventeen art venues around the globe, including those in Lebanon, Germany, Poland, Mexico, Cuba, Puerto Rico, and the Netherlands. Wilderness Trouble explores the contradictions inherent in the idea of "wilderness" and how to reconcile our love of nature with our love of cities. Our biographies and philosophy, including a list of recent exhibitions and awards, can be found at http://ecoarttech.net/about.html.
Leila Nadir and Cary Peppermint