Joya / Anne Charnock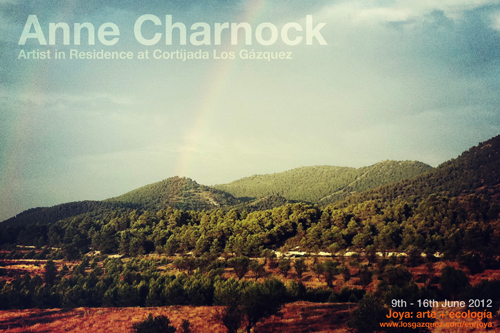 'My practice has engaged for some years with my ambivalent relationship with technology and with the issues of authenticity and uncertainty.
I have recently returned to abstract painting to explore these interests through a range of slowly evolving, process-based activities. In these painted works, I've gradually pared back my process in an attempt to reduce painting to its absolute essentials. I apply constaints so that my gestures are minimized - an anti-heroic take on abstract expressionism. And although my methodology is predetermined, the execution and end-result are unpredictable. The artwork seems to drift beyond my control but never completely so.
In my latest artworks, I pipette individual drops of ink onto cartridge paper, attempting to create a grid pattern. I lift one side of the paper and allow gravity to force a literal 'tipping point'. As soon as one drop of ink starts to run, I secure the position of the paper and allow the ink to dry. I repeat this process, lifting each edge of the paper in turn.
On close inspection, the viewer can 'read' my paintings. By this I mean that the viewer can unpick my painting process and replay my art making.  The viewer also sees the runs of ink and hopefully recognises a water-based system on the verge of collapse. In effect, I have frozen the moment of lost equilibrium.
During my residency at Cortijada Los Gázquez, I plan to take my painting process outdoors. I'm well aware that this is a geographical location witnessing the downside of climate change. As a starting point, I plan to reveal the natural forces – extreme temperatures, wind, airborne sand – through their impact on my ink and paint materials. I have recently considered filming my painting process and I believe this residency will also offer me the right environment to test this idea.
Anne Charnock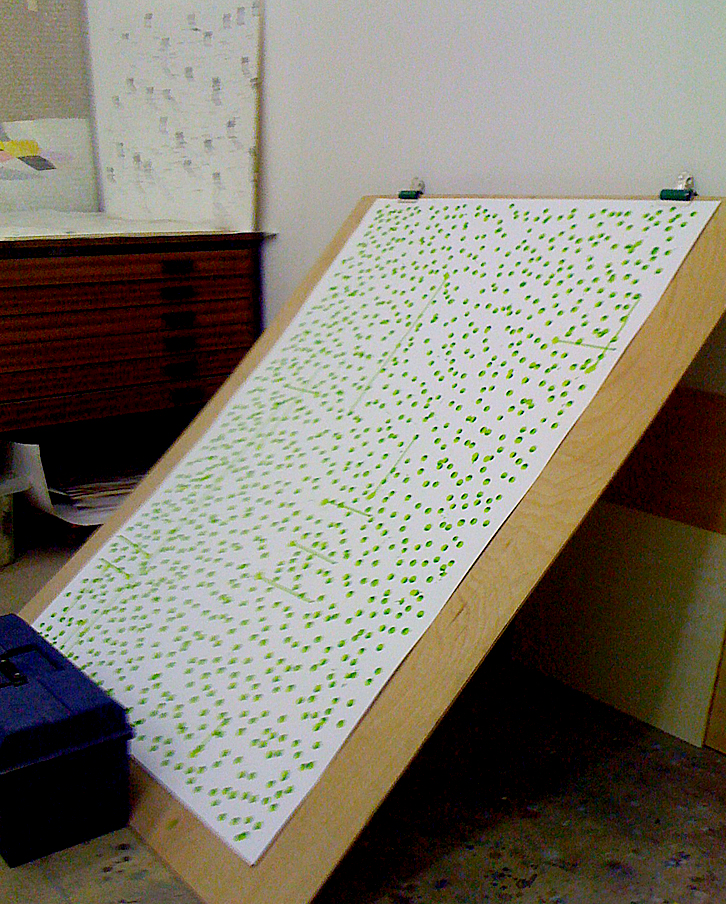 Work in progress for  "Green Gravity No. 1." Acrylic ink on cartridge paper.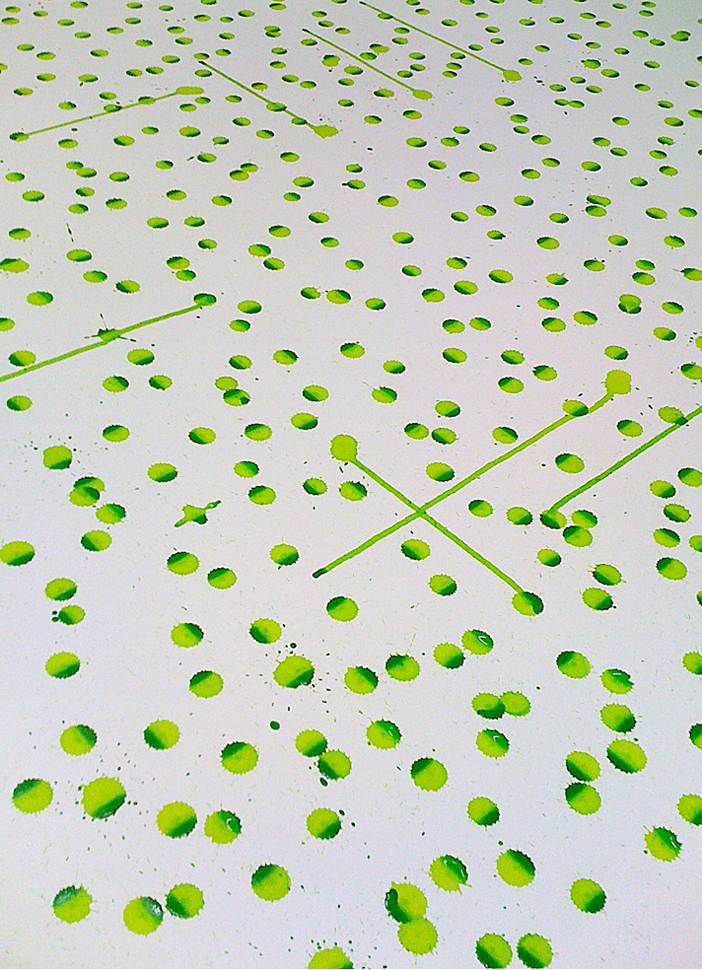 "Green Gravity No. 1″ (detail)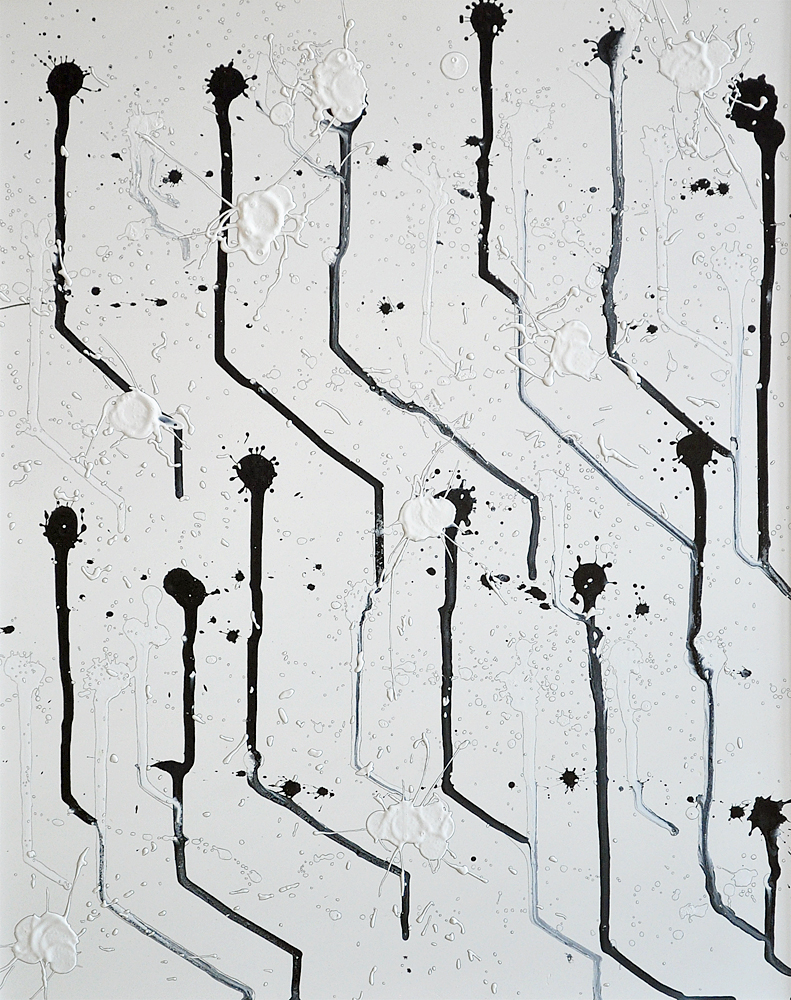 "The dust will settle over two weeks – 17/6/2011."  Acrylic ink, acrylic paint and pencil on gesso board.
Over the past six years, Anne Charnock has been heavily involved with The Ashton Hayes Going Carbon Neutral Project. See below.
Her paintings, lens-based work and text art have been exhibited widely in the UK and overseas – Stockholm, Berlin, Cologne, Helsinki, Bari and Buenos Aires. Shortly after completing her MA in Fine Art at The Manchester School of Art (MMU), she showed work at Moderna Museet in Stockholm, International 3 in Manchester and the Liverpool Biennial. At that time, she was the co-founder of Suite Studio Group in Manchester. She splits her time between Chester and London, where her studio is now located.
Solo shows include Cornerhouse Manchester, Mid Pennine Gallery and FACT, Liverpool.
In 2011, Anne was shortlisted for The Title Art Prize.
"Certainty Suspended" is a 40 page catalogue funded by Arts Council England with essays by Prof Michael Corris and Fiona Curran. Published to coincide with solo show at Mid Pennine Gallery.
Anne's first career was in foreign journalism, writing for The Guardian, New Scientist, International Herald Tribune and others, and she continues to write 'just for fun' for The Huffington Post for whom she writes book and exhibition reviews. This year she plans to publish her dystopian novel – "A Calculated Life" – as an ebook.
Links
Website http://www.annecharnock.com
Blog http://annecharnock.posterous.com/
AXIS database: http://www.axisweb.org/seCVPG.aspx?ARTISTID=11777
Ashton Hayes Going Carbon Neutral Project
http://www.goingcarbonneutral.co.uk/
Located in rural Cheshire, Ashton Hayes is a well-knit community of about 1000 people that is aiming to become England's first carbon neutral village. We started our journey in January 2006 and since then we have already cut our carbon dioxide emissions by 23% - by working together, sharing ideas and through behavioural change. We have formed a community energy company and recently built two renewable energy installations that generate income for the community. We also have a community electric car, a community owned shop and a new recreation field with a low-carbon pavilion.
With the support of the University of Chester, we have measured our community carbon footprint each year and encouraged numerous homeowners to install renewable energy and insulation. A University of De Montfort student completed an MSc thesis on the village and discovered that 98% of the population supported the project. We were also studied by Middlesex University Master's student.
Over the past  years, our efforts have been acknowledge as pioneering and we have received a total of £1 million in support from local councils, local business and the UK Government.
In addition, we've inspired over 150 communities to take action, and our films (on YouTube) have been seen world-wide. We suggest you 'Google' the Ashton Hayes Going Carbon Neutral Project for more details.
Garry Charnock, Ann's husband, was the instigator of the project, which he now co-chairs with Professor Roy Alexander of Chester University (who is also an expert on the effects of climate change on the lichens in Almeria, Spain, and regularly takes student field trips to this region). My own role has been in shepherding the many journalists and film crews who have descended on our community! It's been hard work for everyone but a load of fun.
Links
Financial Times Article    http://robblackhurst.com/2007/villagegreened-ft/
Videos on You Tube
http://www.youtube.com/watch?v=C9jPKLyGa_w
http://www.youtube.com/watch?v=AGKHEbMrhXc&feature=related
http://www.youtube.com/watch?v=A2x0rRKS_4w&feature=related