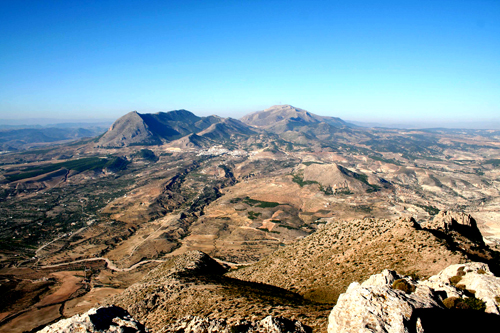 This is the view west from the top of 'La Muela' (1553m/5095.14ft). In the foreground you can see the 'Rambla de Rio Claro' and above the pueblo, 'Velez Blanco'.
The mountain to the left is the 'Sierra de Maimon' (1504 m/4934.38ft) and the larger one to the right is the 'Sierra de Maria' (1898m/6227ft). To put that into a British perspective 'Snowdon' is 1085m/3560ft.
The green to the left is 'Blanco Valley' and the olive groves. Olive groves irrigated by the miracle of water which pours from naturally occurring springs in 'Velez Blanco' and are the main reason the 'Moors' first settled here. This 'spring' water gives the pueblo some fame with people coming from miles around to collect the water.
To the right is the Alpine desert, arid but for the spring rains.