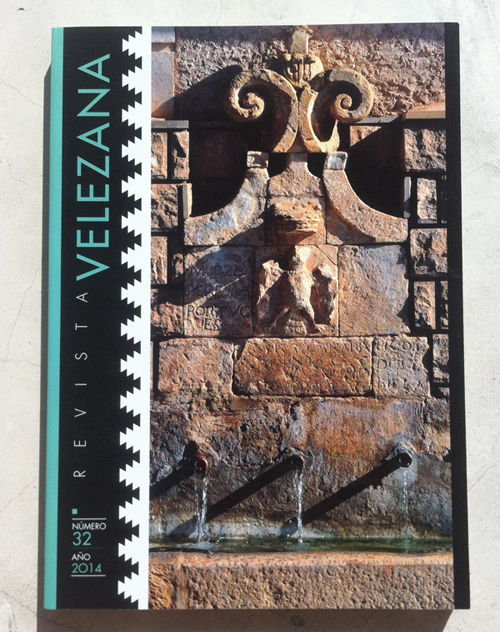 Eating a cliff top packed lunch of fresh bread, ripe tomatoes, and garlic with a drop of olive oil, our legs dangled into a hazy blue sky. Beneath our feet flew vultures, big ones, so close you could hear the air passing through their flight feathers. This was 1995 high in the Sierra Grazalema. It was our honeymoon and we were in love with each other and Andalucía.
I loved the proximity to Africa, the cultural links between the two. I loved the dry landscape, so much the polar opposite to where I grew up in the Peak District in the north of England where it rains horizontally and continually. Here was space and semi-wildness. Here my creativity felt no confines.
The roots of my wife Donna's family, however, grow deep into Spain's past by more than 100 years. Her great grandmother, widowed, moved to Spain from Haiti in 1906. The eldest daughter, Coucoutte, met and married the Catalan racing driver Fernand de Vizcaya in 1917 and they lived in Caldetas. Her sister Bella met and married one Alejandro Pons another Catalan and they lived in Barcelona. Bella went on to be the Spanish women's tennis champion five times. Soon, their other sisters Mona (Donna's grandmother) and Germaine came to live in Barcelona too.
In 1928 Mona visited the British Consulate where she met Donna's grandfather to be, Norman King. He was British Consul General in Barcelona from 1926 to 1938. Born in England in 1880 he graduated in History and Classics from Cambridge. In 1907 he was given a British Civil Service commission and was appointed Vice Consul in the Consular Service. After many postings in the world, notably Africa during the first world war and then Mexico, he was transferred to Barcelona in 1926 where he was made Consul General. In 1930 Norman King and Mona were married. In July 1931 their daughter Norma was born, Donna's mother. A son, also called Norman, was born in 1933.
Over the following years trouble started brewing all over Spain with the imminent threat of conflict. In July 1936 the Spanish Civil War broke out. Norman King remained in Barcelona where, during these years of great turbulence, he had to play a most careful diplomatic game in a city torn apart by civil strife. His skilful efforts were duly recognised in 1937 with the award of Knight Commander of the Order of St Michael and St George, when he received the title of Sir Norman King.
In 1938 he and his family left Barcelona and took up his last post as Consul General in Marseilles. World War 2 broke out in 1939 and in 1940, when the Germans moved southwards from Paris, the King family were evacuated by sea, convoyed far out into the Atlantic, to England, where Sir Norman spent his years of retirement.
For Donna, growing up in Kent, south east England, this Spanish family history was palpable in the food they ate the languages they spoke and the furniture that surrounded them. Her Grandfather was also a keen artist and their home was hung with his oil paintings of Spanish landscapes.
My family are a mixture of Anglo-Saxons, German industrialists and seafaring Scots, who were also well travelled. I think the notion of free trade and movement across political boundaries in Europe existed long before the European Union was dreamed up. Donna and my family histories, whilst largely being English, are also 'of another'. This is why it was easy for us to consider moving abroad and bringing up a family in another country. Our twins are perfectly bi-lingual. They think of themselves as English and they think of themselves as coming from Spain and they are very proud of this.
We are both contemporary artists and environmentalists and we wanted to build a project that mirrored our concerns. I found a Ghandi quote that reflected our feelings when, seven years ago, we chose Almería to make our home. 'You need to be the change you wish to see in the world'. Here seemed the perfect opportunity. The Comarca de Los Vélez and the Parque Natural Sierra María-Los Vélez seemed to tick all the boxes. It's stunningly beautiful, a stone's throw from a beautiful unspoilt piece of Mediterranean coastline called the Cabo de Gata and a short drive from a city of culture, Granada. When we found our home, Cortijada Los Gázquez, we knew we had found the foundation of a great project. The first step was the building renovation, it's 'off-grid' power supply and ecological treatment of wastewater. We had an ambition to build an organisation whose guiding principle was to facilitate, through production and collaboration, art and artists whose work manifest a discourse with the environment and sustainability. To do this we needed to represent the capacity to live in a building with a negligible carbon footprint. Today Los Gázquez, compared to a similar sized conventional building in the same climatic zone as ours, is 85% carbon free and this includes our vehicles.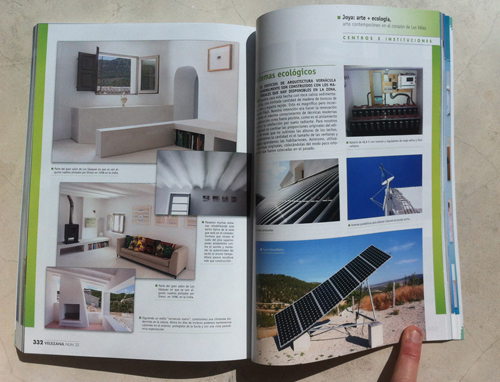 We both have a keen eye and love of architectural design, especially from the perspective of heritage. Cortijada Los Gázquez is a fine vernacular building, the unconscious work of craftsmen based on agricultural and environmental knowledge accumulated over generations. Our ambition was to restore this fine house into a 'new vernacular building', warm and comfortable, with clean lines and a minimal interior. So much residential architecture these days seems to have a homogenous notion of design. It's a consequence of the plurality of global or European political and cultural identity. As a result so much design fails to represent any local context be it material or cultural. It seemed of the greatest importance to us that our renovation reflected regional identity and difference. We believe that political unions should celebrate cultural difference and share different values relating to place.
It's obvious but vernacular buildings in particular are made from materials that come to hand. In our case it's a light sedimentary limestone, clay, a limited amount of wood in the form of pine tree trunks, cane and woven esparto grass. Brilliant but fragile beyond belief. Our starting point was to make the renovation adding as much knowledge of modern building techniques as possible, such as insulation and under floor heating. It was crucial that we didn't change any of the proportions of the building. We did not raise ceiling heights; we did not increase the amount or size of the windows, we did not increase the size of the rooms. We used the original roof tiles, re-laying them with the slightly unorthodox manner in which they were laid before.
What we did add was electricity, in the form of a photovoltaic array and a wind turbine. We added plumbing and bathrooms with hot running water created by a solar panel and two giant bio-mas boilers. We separated the capture of wastewater into two categories. 'Grey water', from showers, basins and the kitchen sink is now used to irrigate an olive grove and grow giant cane to be used as construction material. 'Black water' from the toilets is collected in a septic tank and then treated through a series of reed beds. Locally occurring 'Phragmites Australis' is a fantastic plant when it comes to consuming bacteria. This ecologically 'cleaned' water is used to irrigate a coppice of almond, the wood of which is cropped and used for bio-mas fuel.
Our well is dry, for reasons I will explain later, but we did have a pre-existing water deposit buried underground at the front of the property. This we reformed and hooked up to a rainwater catchment system using the buildings roof as the catchment surface area and a series of ground level acequias to carry rainfall to the deposit. In good years this works well. Latterly dry winters have made the system struggle slightly with the consequential need to buy water in.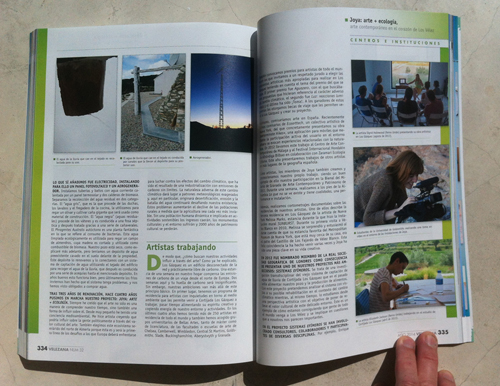 After three years of renovation, four years ago we launched our project here, Joya: arte + ecología. I have always believed that art is not only a way to understand our times but also a way to influence them. From the earliest age I have been environmentally conscious. I became an artist believing that I could influence people politically through the cultural value of art. We also chose this alpine desert in the north of Almería because this is and will be the front line in the challenges Europe will meet in the face of climate change as a result of industrialisation with unlimited carbon emissions. The contrary nature of this climate change will manifest itself in exaggerated weather patterns and here in particular desertification, soil erosion and the battle for water will continue to challenge our existence. These challenges will increase the declination of rural populations as farming becomes increasingly unviable. Without a vibrant human population engaged in sustainable activities revenues will fall, cultural monuments, including landscapes, will suffer and 2000 years of cultural heritage will be lost.
So how do our activities seek to influence through art? As I have already explained, Los Gázquez is 'off-grid' and virtually carbon free. A week living in our home will offset the carbon emissions of a flight from northern Europe. Two weeks here and you are beyond offsetting; you are negating your carbon footprint. However our ambitions exceed this basic principle. First and foremost we have a residency for artists with environmental concerns to come to Cortijada Los Gázquez, spend time nurturing their creative spirit and be energised by our environment and our activities. In the last four years we have had in excess of 250 artists resident with us from all over the world. We also engage university groups, having had residencies from Chelsea, Camberwell, Wimbledon, Central St Martins, Goldsmiths, The Slade, Buckinghamshire, Aberystwyth and Granada Schools of Art, both undergraduate and Masters students.
We also create 'awards' for international artists inviting a respected group of selectors to choose the most appropriate proposals for art works at Los Gázquez in relation to 'themes' we propose. The first award was called 'Aguazero' concerning the contrary nature of climate change, the second 'Luz – light reactions' and the latest ¡Toma! The recipients of these awards receive small travel bursaries from us to allow them to get to Los Gázquez and create their proposal.
We also curate art within Spain, most recently with a group from the USA called Ecoarttech. They have built a smart phone app that requires audience participation within the urban environment to evoke activities relating to the wild. In 2012 we curated their performances at the Centre for Contemporary Art in Málaga and at Hondakin, Bilbao. We will be curating more artists here in Spain this year.
As artists we also create and promote our own work being selected for the Granada Biennale of Contemporary Art and Heritage in 2011. We created a weeklong performance/installation piece beneath the Alhambra entitled 'The Unseen Exists and Has Qualities'.
In addition we make short films about our artists residencies. One such film describes the third residency and 'painted installation' at Los Gázquez by New York artist Melissa Marks. On her first visit she was shocked and amazed to discover that her favourite room in the Metropolitan Museum, a short distance from her home, was the Patio from the Castillo de Los Fajados in Vélez Blanco. This serendipitous coincidence has kept her coming back to us and indeed we are pivotal in her creative life…
"My first experience with Joya was in July of 2010.  I was invited for a two-week residency.  It was an opportunity to work in the studio, to draw, to look, to think, to immerse myself in the spectacular landscape of Almería and to engage in a larger dialogue about art and the environment.  What I found was the beginning of an expansive collaboration that continues to shape the trajectory of my work as an artist.  I found provocative and joyful conversation, empathy and humor.  I found a community that values history, family, culture and the resources of our planet.  I found a deep respect for the potential of creative exploration and an abiding trust in the unpredictable, idiosyncratic process of making art.  I found a forward-looking system that manages just the right mix of work, play, autonomy and intervention.  I found alert minds that observe and share and take care of their surroundings.  I found a gentle acknowledgement of all that is ephemeral and a fluid, ambitious stance toward permanence.  I found sustenance in the most profound sense.  I found inspiration. 
Simon Beckmann, Donna Beckmann and Gonzaga Gómez-Cortázar Romero, the visionaries at the core of Joya, have made a complex and graceful ecosystem, full of energy, full of life.  Their support has encouraged and challenged me to grow my ideas, over time, with action and reflection.  I have made three trips in all to Los Gázquez, completing two large-scale wall-drawing installations, SUNTRAP and SUNBURST.  An invitation to draw took on a life of its own and its impact on me has been immeasurable.  Joya is a force of Nature and I will show up to draw anytime they ask".
Artist Melissa Marks.
In 2012 I was made a 'fellow' of the 'Royal Geographic Society' in London as a consequence of launching a large project there called 'Sistemas Efímeros'. This is a trans disciplinary investigation into the old water catchment system at Cortijada Los Gázquez which used to feed our well and food production. We seek to investigate the system in relation to it's restoration in the face of climate change whilst at the same time researching the system from an artistic perspective with the consequence of adding cultural value to a marginalised landscape. This is an example on how we can reach out and engage people with Los Vélez and the issues that concern us.
The Sistemas Efímeros project has engaged consultants and collaborators as well as participants from all disciplines. For example Enrique Doblas-Miranda is a biologist and director of the MENFRI project, looking for the creation of a Mediterranean network of forest research and innovation. Professor Mark Macklin who, amongst other things, is the director of the Fluvio Consultancy specialising in river basin and water resources management, particularly the effects of environmental change on river systems. We also have Ana Garcia Lopez the Vice Dean for international relations, mobility programs and research at the Facultad de Bellas Artes, Universidad de Granada. Joya: arte + ecología has an agreement of collaboration and affiliation with the university and we often work quite closely with each other on projects. We have had three artists working within this specific project so far. One of these, Sigrid Holmwood, has a long term plan called 'Cultivating Colour – a garden for a new peasant painting'. On one of the terraces within the catchment system she is building a garden of native plants all of which can be processed to make paint. Once the garden is established she will process the plants into paint and then make a painting about the process of making the garden and the paint. Throughout the project she will be giving workshops and demonstrations. Her technical knowledge of the subject is second to none.
So in general, how do these activities achieve the influence we want to exert upon opinion? Contemporary art has many qualities one of which is the explanation through ideas, of such abstract concepts as climate change. A cultural response to the climate issue transforms data into a series of visualisations and interpretations that become concrete notions. Our activities also seek to shine a light upon the complexity of the rural situation in relation to land use and the value of marginalised ecosystems. Here again we believe that a cultural response to human activity constantly inquires into 'best practice'. For example the promotion of sustainable adaptation to land use and water resources in a time of rapid change.
La Comarca de Los Vélez already has a vibrant creative and cultural life and we have been fortunate to be a small part of that life. In future we would like to create and encourage further activity through our programmes engaging more young people from the area as well. Our activities seek to celebrate the history and culture of Almería through our projects like Sistemas Efímeros. The ingenuity of the forefathers of this province to sustainably render water to produce food in such a hostile environment is to celebrate culture at its earliest and highest form.
Joya: arte + ecología seeks to bring global attention to the potential of rural Spain. By using the language mediums of Spanish and English we have the potential to access international attention to a unique and contemporary cultural life that can exist here. Our trans disciplinary projects such as Sistemas Efímeros operate beyond conventional arts organisations and engage with other complimentary disciplines. This gives us a broader platform from which to disseminate our ideas. We are currently working with Durham University, an artist and a geomorphologist are examining ancient grasslands and their importance to soil conservation. Rainfall patterns from the north of England compared to here are poles apart yet the functions of biospheres in both places are more or less the same. It is the contrast and comparison that can draw parallel ideas from such occurrences.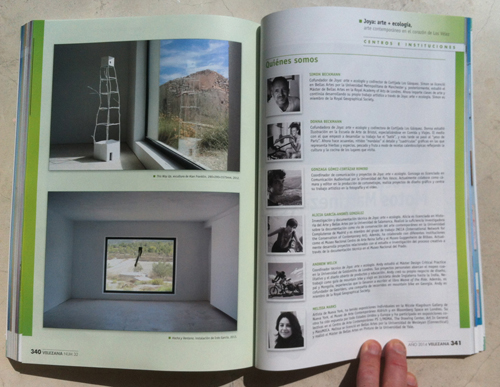 All these activities however are not achieved by the two of us alone. We now have a small group of colleagues who give their time willingly in a desire to be a part of and contribute to this project. Firstly, Gonzaga Gomez Cortázar Romero. He is a photographer and filmmaker and close friend of the family. We call him our director of communications but in reality he is much more than that. We share equally the curatorial decisions and project development strategies with him and he is an invaluable part of the team. More recently we have been joined by Alicia García-Andrés González. She is a conservator at Museo del Prado and our technical documentation expert specialising in developing a design protocol for archiving the contemporary and sometimes ephemeral art that gets made here. Our latest recruit is Andrew Welch, round the world cyclist and expert in all things technical relating to computing and modern media. It has become an honour for us having these young and very gifted people wanting to share their skills and time to make this project work.
By the time this article is published Joya: arte + ecología should be an association. This will give us the legal status to allow us to take part in Internacional congresses and as a 'not for profit' organisation look for funding to support some of our projects. One hundred and odd years after the first of my wife's family came to Spain now their great and great great grandchildren are here again, in their small way participating in a rich and vibrant culture and hopefully contributing to the future of all our lives.
Simon Beckmann