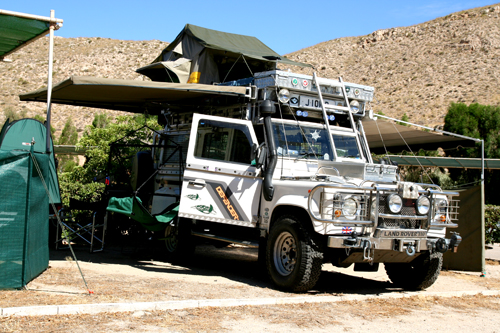 Now I know Land Rovers are not the most environmentally sensitive vehicles in the world but there are circumstances where they are necessary. We have one because year round no other vehicle will ford a flowing rambla or cut a swathe through winter snow drifts, and no other vehicle will double up as a farm tractor quite so easily. We will convert ours to bio-diesel when we can guarantee the efficacy of the product (see 'Splash and Dash' under category 'environment' in an earlier post).
Having just had a trip down to the 'Cabo de Gata' camping for three days, at the beginning of the school holidays, I must confess to my delight at seeing a convoy of other Land Rovers, all flashing their lights in filial delight at seeing another Land Rover, off on safari. Living in Andalucia you can get the feeling of being at some great crossroads between Europe and  Africa and seeing these desert bound folks just makes us want to follow.
This super equipped beast belongs to John and Claudia and is bound for the west African coast where it's owners are deeply involved in turtle conservation, we wish them every success.