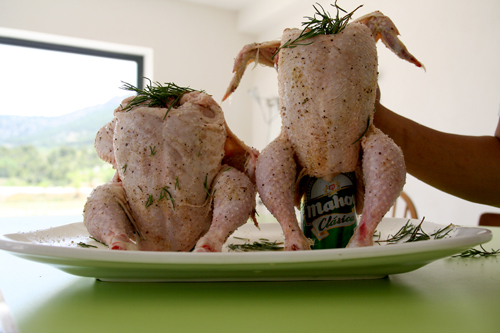 Sadly we are about to say goodbye to two very nice volunteers here at Los Gazquez. Aaris and Chris from Mission Viejo, Orange County, Southern California. Now whereas a couple of my brothers went to catering college, Chris went to the 'Institute of Creative Culinary' back in Orange County. And in such an institute he learned such culinary beauties as beef burgers stuffed with blue cheese (fantastic) and my favourite 'Beer Can Chicken'. (Awesome).
Take one chicken, massage with olive oil, salt, black pepper and rosemary. Take one can of beer, pour a drop out, add a bay leaf and some pepper corns. Next carefully introduce the chicken carcass to the beer can in the manner demonstrated above…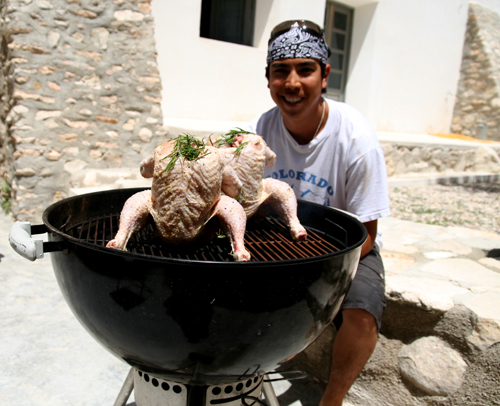 Next sit the chicken(s) on the BBQ in the manner demonstrated above (chef Chris poses in front of his creation) put the lid on and leave for 40 mins.
Whilst waiting for the cooking process to take place, a good way to occupy your time is to play Polish ping-pong. It's like conventional ping-pong but if you drop a point you must lift your t-shirt over your head while your opponent hits the ball at your naked skin as hard as he can. If he makes contact he creates a blistering welt on your skin that looks like ring-worm and I have no doubt stings. (epic)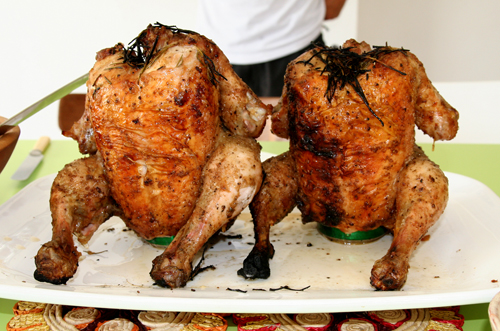 The results (chicken not ping-pong) were two beautifully cooked chickens. Poached in beer on the inside and roasted on the outside. Not beer tasting at all really, just delicious.
Chris and Aaris are off tomorrow to a music festival in Morocco, tell me I'm not a little jealous. They will be missed by us all, it was a pleasure having them here. (Righteous) (Tubular)!!!