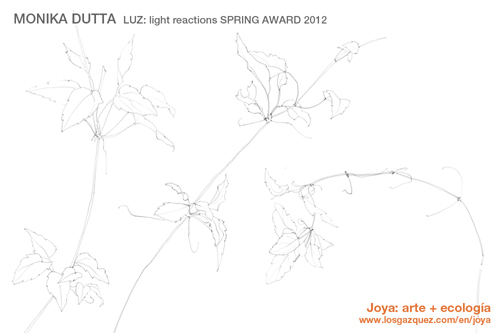 Joya: arte + ecología is pleased to announce that the winner of the award LUZ: light reactions is the artist Monika Dutta.
LUZ: light reactions is our second award which we launched  last spring. We invited submissions for multimedia work that evidences light dependent reactions upon the environment and we received a lot of very good submissions. Finally, our panel of selectors chose Monika Dutta's proposal.
'I'll use the light dependent process of cyanotype printing to map the presence of the sun throughout each day and to capture the interaction of its movement with the growth of particular plants…'
Monika Dutta
The artist, from East Riding of Yorkshire, will now take up a two week supported residency at the home of Joya: arte + ecología, Cortijada Los Gázquez. The dates will be announced soon.
LUZ: light reactions has been made possible by the generous support of St Jude's. We would like to thank them for their assistance in making this award happen.
We would also like to express our gratitude for the interest and support given by all those who entered the award.
Should anyone be interested in supporting the Joya: arte + ecología award next time we would be grateful for a contribution towards the artists European travel expenses and in return, if you so wish, we will more than happily promote your sponsorship along with the award.
More information on Monika Dutta's project can be found HERE.