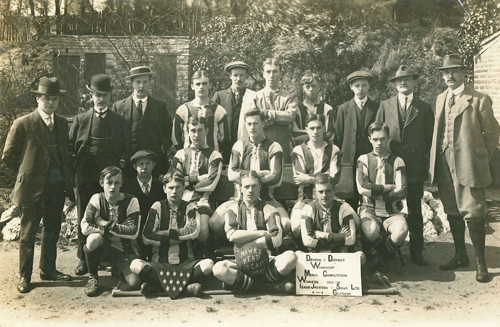 My brother Paul sent me this postcard. His friend from school, Mike Brown (who I believe is one of these fantastic enthusiasts who volunteer their time to the Glossop Heritage Centre), bought it on EBAY. Isaac Jackson was our great grandfather who had a steel working mill in Glossop in the Peak District. The gentleman on the far left (in the rather fine Homburg) is the half Scottish half German from Latvia, Richard Alfred Beckmann, our grandfather. He married a daughter of Isaac.
These photos from this period instantly make me feel sad because we know what happened to most of these young men probably very soon after the picture was taken. Off to Ypres or Passendale.
But possibly not. Isaac, as a steel fabricator, was commissioned to make armaments for the war effort. Along with all these young men they were essential workers and may have avoided the call up. I don't know for sure. It would be nice to know.