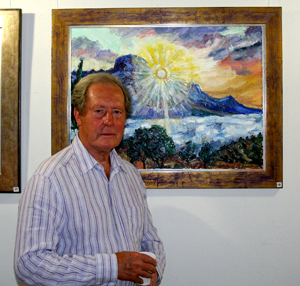 … and a very nice evening it was too. We went to the exhibition of a friend of ours, John Riches. John and his wife Marilyn are building a house here with a studio. He really loves the landscape of 'Los Velez' and spends an admirable amount of time 'brush in hand' painting it.
So when John isn't racing solar powered cars across the Australian outback or dreaming up schemes for a solar powered boat, he can be found in the 'Comarca de Los Velez' exhibiting at Pepe's gallery.
Galeria 'La Concepcion', Velez Blanco from the 5th of July until the 26th (my birthday incidentally), 19.00 to 21.00 in the evenings when it is a little cooler.