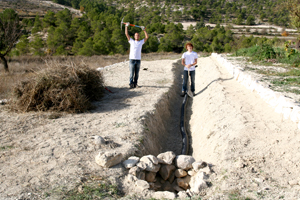 This autumn (even though it hadn't really arrived until this weekend) has seen us take the opportunity to re-install the grey water system. All the grey water from Los Gázquez leaves the house by it's own dedicated waste water system. When I say grey water, I mean water from the showers, basins, kitchen sinks, dishwasher and washing machine. What is more we only use ecologically safe detergents as this water is used to irrigate a terrace of fruit trees.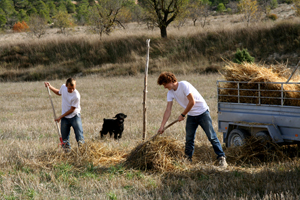 To help us with this task we had two wonderful young French men from Lyon. Lloyd and Romaine were on their gap year and they stayed with us for a few weeks on their return from a month in Morocco. (I have to say that if their parents are reading this we must say that they are a credit to them, they are welcome back here any time). The first thing to do was to dig an horizontal swale or ditch with an access point at one end which you can see in the foreground (below). In the excavation we laid field drain. Next we collect the barley straw from last summer and cut the straw from last springs wild flowers.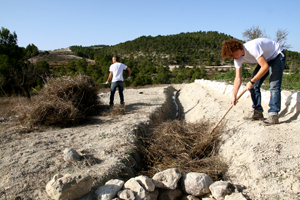 Firstly the wild flower straw goes over the field drain in the ditch. It has more structural integrity so the idea is that it supports the material we put over the top. We have adapted the idea from Permaculture techniques. The swale will hold the water stopping it from running off and giving it time to soak into the earth. When the earth is dry, being clay, it is as hard as concrete making whatever rainfall we have simply run away.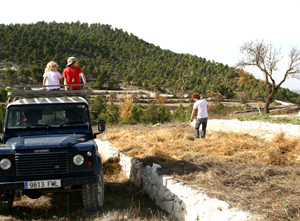 Lastly, with an audience of eight year olds on my car roof, we apply the barley straw. This is laid like a thick blanket over the whole terrace. The idea is that it will act like a sponge keeping the newly introduced grey water high in the earth, watering the tree roots from beneath. It is also a deep mulch keeping the clay earth soft and allowing worms and such to break down this organic matter, conditioning the soil.
We have three terraces for this system so we can alternate where the grey water goes, freshly irrigating one terrace while the others rest. What is more it's entirely organic and can be replenished or removed with ease. Last spring we planted four trees on the first terrace which was fed by the grey water in a canal. This was marginally successful but out of the four trees we planted, pear, persimmon, fig and apricot, the apricot died as I suspect it had too much water. The new system will hopefully combat that problem, Let's see.
And thanks to Lloyd and Romaine.