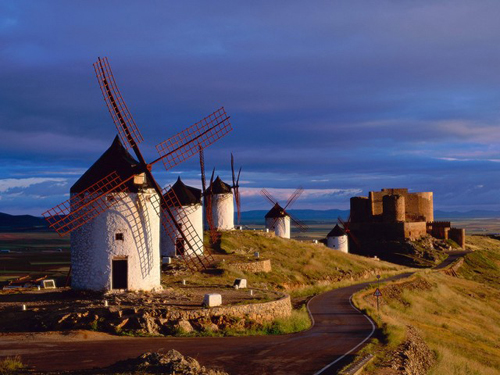 To fly to Los Gazquez our nearest airports are Almeria, Granada, Murcia (though actually nearer La Manga, God forbid) and Alicante. Granada and Almeria are preferable in my opinion as the landscape you cross from these airports to here is spectacular. Especially Granada as you drive east behind the Sierra Nevada, Guadix and Baza.
But consider this…
My carbon footprint calculator tells me that a return flight from London (purely an example) to Granada issues 0.459 tonnes of carbon into the atmosphere per person. If you wish to escape to the sun then our continued use of aircraft to travel the globe will more than guarantee a hot climate. It will guarantee a dry and barren one too.
Much better would be the train. Again London to Granada (a mere 1476 miles/2375km) and produces 0.286 tonnes of carbon. 'Not significantly lower' you say 'and a much longer journey'.
Yes indeed but consider this…
After a pleasant lunch in London take the Eurostar to Paris arriving early evening. Then take the Trenhotel overnight to Madrid.Then having had a drink at the bar, supper in the diner, have a deep and restful night in your sleeper. Having arrived, in the morning take breakfast in the Puerto del Sol and visit the Prado, lunch somewhere special and by early evening you are ready to take the train to Granada. Around 11.30 in the cool of the evening (the Spanish will just be coming out to play) check into your hotel and immediately go out and drink in the night's atmosphere. In the morning visit the Alhambra before everyone else, enjoy the Generalife until lunch and then make your way onto us at Los Gazquez, about an hour and a half away.
What's that, a day and a half?  You are rested, your head full of fine art and your stomach full of fine food and your adventure is just about to begin. What's more your trip is more sustainable for the environment and when you are with us you will produce no carbon emissions at all!