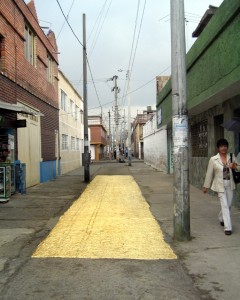 It is fast approaching the end of the Joya residency for artist Alice Forward. Accordingly I thought it would be interesting to post up a previous piece of her work from an entirely different environment to Los Gázquez before I show you some images of the work she has made here during her residency.
Pista de Oro, Bogota, Colombia, 2006
Alice Forward likes to make transient work that is specific to the place it is made. This gold leafed section of pavement was made for the 2006 Venicia Biennale de Bogota, and refers to the local history of El Dorado, and the gold that was stolen by the conquistadors from the original inhabitants of the Bogota basin.
Clearly, working on the surface of the earth attracts her creative imagination. Whilst there has been greater physical variety in her work in the years between this piece in Columbia and her residency here at Joya, you can see a return to familiar ideas and ways of seeing. Each new day she has been working for hours, high in the sierras surrounding the cortijada, her quiet introspection slowly revealing a world at once in microcosm and in a moment far more expansive. The epitome of the universe.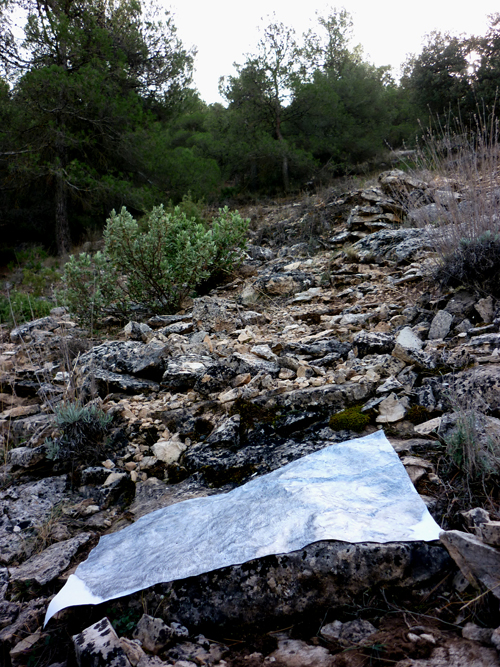 Mapa 1:1, Sierra Grande, 2009
Forward has found the rocks around Los Gázquez 'really amazing' and she has started to make a whole series of pencil rubbings from them. She tells us about a short story by  Luis Borges about a king who ordered his royal mapmakers to draw up the biggest, most detailed map ever known. The map they made of his kingdom in minute detail was exactly the same size as the country itself.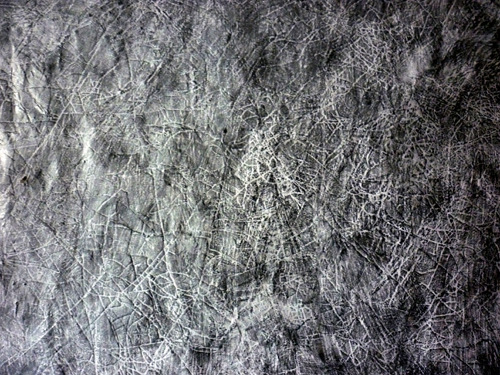 It has been a gift to have Alice Forward resident here at Los Gázquez and once again it has been a compelling insight into the ways artists sometimes appear to conjure meaning from the apparently meaningless.