Joya: arte + ecología is an arts organisation based at Cortijada Los Gázquez in the heart of the Parque Natural Sierra María Los Vélez in the north of the Provincia de Almería, Andalucía. The guiding principle behind the activities of the organisation is to facilitate, through production and collaboration, art and artists whose work manifests a discourse with the environment and sustainability.
The principal ways Joya: arte + ecología accomplishes this objective is as follows:
CURATED RESIDENCIES
In the last three years the organisation has invited and hosted in excess of 140 artists at Los Gázquez, providing them with a studio environment free from distraction in one of Spain's most beautiful regions.
RESIDENCIES
The opportunity exists for artists from all around the globe to take a residency at Los Gázquez funded privately, or from a third party interested in promoting that individuals work, and/or making associations with Joya.
GROUP RESIDENCIES
We annually host group residencies with MA students in Fine Art. So far, groups have come from
The University of the Arts, London (Camberwell, Chelsea and Wimbledon)
The Slade School of Art
Aberystwyth School of Art
In 2013, we will be hosting students from
Goldsmiths University
The University of Granada
Buckinghamshire New University
AWARDS
We promote our ideals through two annual awards. Our first award was AGUAZERO requesting submissions to reference the contrary character of climate change.
The second was LUZ: light reactions, seeking proposals for multimedia work that evidences light dependent reactions upon the environment. With the aid of a sponsor, we fund the travel expenses of our award recipient in tandem with funding their residency.
CURATION
We curate work from our resident artists and others at venues across Spain. In 2012, we curated ECOARTTECH at CAC Málaga (Centro de Arte Contemporáneo de Málaga). In December 2012, we will be promoting the work of Joya: arte + ecología and ECOARTTECH at Alhódiga Bilbao.
SHORT FILMS
Our creative way of celebrating and promoting the work of our resident artists and the residency.
PROJECTS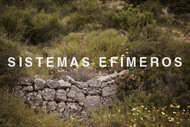 We are beginning to initiate large projects such as Sistemas Efímeros. The aim is to unite trans-disciplinary skills to investigate sustainable means of restoring and producing water resources and attributing value to marginalised land in a transportable model to other similar ecosystems internationally.
PRODUCTION
We are artists in our own right, and were selected for the Biennale de Granada Contemporary and Art and Heritage in 2011, with the aim to complete further projects in 2013.
Cortijada Los Gázquez, is an off-grid location built around entirely ecological principles. Whilst we are particularly interested in hearing from artists whose work engages with issues of ecological sustainability. However applications are sought from artists working in a wide range of media who could respond to the unique environment of Los Gázquez.
The Cortijada Los Gázquez is now inviting artists to submit applications for the residency commencing in the spring of 2013 through to spring 2014.
Artists will have sole use of a thirty square meter studio and 20 hectares of land for a one to two week period. Accommodation and meals are included as is collection and return to the nearest public transport system. Resident artists will be featured on the Joya web page, which will include biographical information and images. The work undertaken during the residency will also be documented and entered into our archive.
In return resident artists will be required to open their studio to Cortijada Los Gázquez's creative guests and talk with them about the issues that concern their work and their experiences as professional artists.
On completion of the residency artists will be asked to donate a small piece of the work they have created during the residency to the Joya project.
| | |
| --- | --- |
| | APPLICATION FORM |
The residency at Cortijada Los Gázquez also applies to writers and operates by the same terms.
The Joya artists' residency offers three ways in which applicants can realise a position at Cortijada Los Gázquez.
Joya Applicant
Applicants should send an email/letter of application, saying briefly why they would like to come and what work they might make. The letter should include up to 3 links, where images etc of the artist's work can be found as well as the name and contact of someone who can act as a referee.
Applicants are reviewed by a rolling committee of local, national and international artists and writers.
Joya Associate Applicant
The Associate Applicant should apply on the same principles as a Joya Applicant but they pay a contributing fee. The fee goes directly back into supporting Joya applications. Associate Applicants have additional benefits of day long cultural tours of the region, guided walking or mountain biking, restaurants (outside of the Los G&aacutezquez catering), introductions to ecology systems and much more. The weekly fee for Associate Applicants is 925 euros.
Joya Associate Applicants, as contributers to the Joya residency, are free from the scrutiny of the Joya Committee.
Joya Volunteer Applicant
The Volunteer Applicant should apply on the same principles as the Joya Applicant but can trade 6 hours a day voluntary work at Cortijada Los Gázquez. Accommodation is more basic but more than comfortable. Board is the same as everyones. Outside of the hours you have volunteered the external space and dedicated internal space at the retreat is at your disposal.
Joya Volunteer Applicants, as volunteers, are free of the scrutiny of the Joya committee.
General Notes
Joya residencies are normally 7 days to 2 weeks but can be extended depending on the circumstances. For artist applicants who would like to bring a partner please note that it is revenue from the Eco-Guest House, Cortijada Los Gázquez, which funds the Joya residency. Therefore we ask the artist's partners to pay the single person occupancy fee. Details can be found here.
SUPPORT
The JOYA residency currently depends on the financial support of Cortijada Los Gázquez Creative Retreat and Eco-Guest House. The JOYA residency would like to offer generous patrons a wide range of opportunities to make gifts to artists and writers, either from their own community or directly to support the JOYA residency.
For more information please contact [email protected]