There is, in Madrid, a fantastic resource called 'Notes from Spain' . And as their strap line suggests 'Travel - Life - Culture', it is a marvelous amenity as well as being very inciteful and entertaining. Ben Curtis is the author along with his wife Marina Diaz and their site is packed with fantastic stuff. They do 'podcasts'…. 'Notes from Spain', 'Notes in Spanish' and 'Cusine from Spain', which you can find in 'iTunes'. They also have a lively 'forum' as well as Spanish tuition.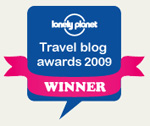 So good are they that they have just won the 'Lonely Planet' travel blog awards for 2009.
And today 'Cortijada Los Gazquez' is the 'guest blogger'  at 'Notes From Spain', about  which we are very pleased. If you have a moment have a look and maybe make a comment. In the meantime let me say thank you to Ben and Marina for the opportunity to tell a wider audience about our special place.