Creative Courses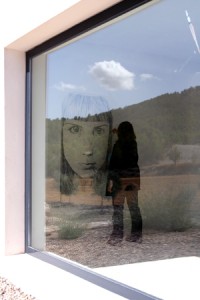 In the unspoilt Parque Natural Sierra Mar&iacutea-Los; V&eacutelez;, northern Almer&iacutea;, Andaluc&iacutea;, this is a retreat for the creatively minded. Should your compulsion be to draw or paint, to exercise any multiple of creative disciplines, we provide the space, time and opportunity to make an art holiday a deeply fulfilling one.
We run a series of art and design courses throughout the year. The ethos of these programmes is to tailor your experience of this environment in a way which allows you to maximise your understanding and creative response. We have designed eight creative courses and full details can be found by clicking on any of the titles below...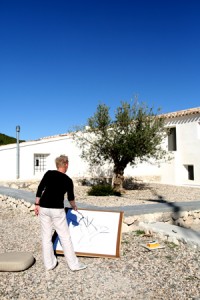 The atmosphere for these courses is very much for the guest to bring their knowledge and skills, their passions and enthusiasms to a group of people in an atmosphere of camaraderie and sharing, should your abilities be professional or yet to be discovered.
We are also host to a residency for professional artists, 'Joya: arte + ecolog&iacutea;'. This scheme will give you, as a creative guest, not only the opportunity to hone your own skills but to spend time with a professional artist (often a tutor) to talk art and artists, materials and techniques as well as the experience of being a 'practising' artist.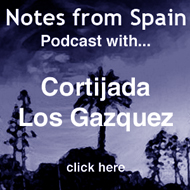 You can hear more about our creative courses, Cortijada Los G&aacutezquez; and the Joya: arte + ecolog&iacutea; residency by clicking on this image Notes from Spain. It's an interview we gave to Ben Curtis and Marina D&iacuteaz; who run the Notes from Spain web site and blog from Madrid. It's a fantastic language resource as well as a great cultural guide to this wonderful country.
Creative Course Prices
Long Break - 7 nights/6 days tuition - full board including tuition - 950 euros per person (inc.IVA 10%)
Medium Break - 5 nights/4 days tuition - full board including tuition - 660 euros per person (inc.IVA 10%)
Short Break - 3 nights/2 days tuition - full board - 316 euros per person based on 2 sharing - single room occupancy -368 euros (inc.IVA 10%)
Cortijada Los G&aacutezquez; is now taking bookings on creative courses
We can accommodate group bookings on dates that suit their calendar. Contact [email protected]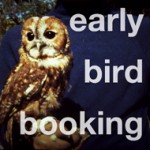 Note: there are discounts on prices to be had if you book well in advance. For further details look here.